Welcome to our Cheese & Gourmet Foods Boutique, in affiliation with iGourmet.com! DiscoverFrance.net is pleased to present a unique online source for gourmet gifts, imported cheeses and specialty foods. We have committed ourselves to hand-selecting only the very best products from around the world, like our delicious, extra-creamy Brie, authentic Normandy Camembert, Bleu d'Auvergne, and the popular P'tit Basque semi-soft sheep's milk cheese — handmade in the French Pyrénées.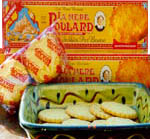 Every gourmet palate will appreciate our Picholine Olives from Provence, Campagne Saucisson infused with the freshest herbs and spices, or the Caviar d'Aubergines — a spectacular creation from the Lubéron region. If pâtés are a favorite of yours, treat yourself to our selections of Foie Gras with truffles, Duck pâté with green peppercorns, or Duck Liver Mousse with forest mushrooms, all tantalizing delights from Sarlat in the heart of Périgord. Your cooking will be marvelously accentuated with our flavorful oils from A l'Olivier — served in the best restaurants of Paris and Provence — and your guests will admire your taste in service accessories.
In our Boutique you can also find premium gourmet gift baskets, as well as other beautiful gourmet items such as exotic wood cheese boards, snail dishes, French presses, and fruits in liqueur. Our "Cheese Of The Month" club is one of our most popular gourmet gift ideas, and we have recently added coffee and tea clubs as well. A special gift accompanies all annual club subscriptions.
In addition to delectable foods from France, we offer selections from dozens of other countries around the world. If you are searching for Umbrian pasta, Tuscan tomato sauce, and Parmigiano Reggiano for an Italian dinner, unique jams from Germany for an authentically European breakfast, or genuine Bundnerfleisch beef imported from the Grisons in Switzerland, we have everything you need, including entertaining tips and serving advice.
Because they are direct importers, our source at iGourmet offers you previously unavailable culinary treasures at prices that are surprisingly affordable. We are proud to expand the availability of products like pâté, caviar, smoked fish, imported preserves and especially fine cheeses beyond the doors of top-tier restaurants and into the homes of people who simply love good food. Our easy-to-follow recipes, abundant serving suggestions, and informative product descriptions make gourmet food shopping in our Boutique an approachable, enjoyable, and convenient learning experience.
So, please browse our site and make yourself at home. We are sure you will love our products as much as we do! Thank you for your patronage and support, which will sustain our ongoing efforts to provide you with a useful and informative collection of resources on France!
Ian C. Mills, Managing Director
www.discoverfrance.net