Driving in France can be a real pleasure. The system of roads is magnificent and often provides huge, sweeping views of countryside. Congestion, because of the size and shape of the country, is much less than in many other western countries or the U.S. Do not shun the older national roads or departmental routes: you can often travel for miles across country, seeing few other cars, on a road as broad and well-maintained as any major road in Britain or the U.S.
Useful Terms
Car Rental Agency - agence de location
Detour - détour
Diesel - diesel
Embassy - ambassade
Entrance - entrée
Exit - sortie
Expressway - autoroute
Forbidden - défense d'entrée
Highway - route nationale
Hospital - hôpital
Gas Station - Station Service
Motor oil - huile
One-way - sens unique
Parking - parking
Police - police
Police station - gendarmerie
Toll - péage
Toll Road - route à péage
Unleaded Gasoline - essence
General Info
France has nearly 25,000mi/40,000km of national highways, of which nearly 6000mi/9600km are four-lane superhighways, known as autoroutes. Many of these superhighways are toll roads, called autoroutes à péage.
These toll roads were developed starting in the 1960s by private concessions, after the government realized that it was lagging behind neighboring countries in developing a national superhighway system.
The French government also maintains a good network of secondary national highways, denoted on maps by an "N" before the route number. (These highways are also referred to by the initials RN, for Route Nationale, followed by a number.)
Local governments maintain local roads, known as Routes Départementales, which are often the most scenic and are denoted by a "D" in front of the route number.
Of course, there are times when it is wiser not to drive: most obviously in large urban centers, around major seaside resorts in high season, and during peak holiday migrations like the beginning and end of the month-long August holiday, or the notoriously congested weekends around July 14 and August 15.
Car Leasing or Rental Requirements
To lease a car for 17+ days (through the Peugeot lease/buy-back program), you must be at least 18 years old (age may vary by car category) and have held your license for 1 year. There is no upper age limit.
To rent a car, you must be at least 21 years old (age may vary by car category) and have held your license for 1 year. Drivers under the age of 25 may incur a young driver surcharge.
Visitors staying less than 90 days and carrying a valid EU, international, or U.S. (state) license may drive in France. Although it is not a requirement of either our leasing or car rental contracts, an International License is recommended, as it can help to expedite encounters with authorities in the event of an accident or traffic infraction. (In the U.S., International Licenses may be obtained from the American Automobile Association [AAA] for around $10.00.)
Speed Limits
Speed limits in France are as follows:
City — 31mph/50kph
Open Roads — 68mph/110kph
Highways — 81mph/130kph
Rules of the Road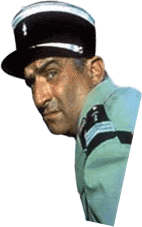 Traffic travels on the right in France. The French rules for priorité â droite (yield right-of-way) are the opposite of the U.S.: a vehicle entering from the right has priority in cities and towns. Outside these areas, as indicated by a yellow diamond sign, traffic on the more major roads has priority.
U-turns are not permitted, nor is crossing a solid white line. A flashing red light means do not enter. Driving in bus lanes is prohibited. The maximum legal concentration of blood alcohol is 0.5 grams per liter. On motorcyles and scooters, helmets are required for both the driver and passenger.
The use of seatbelts is mandatory at all times, and children must be at least age 10 to sit in the front seat. Approved child seats are mandatory for children up to age 4: rear-facing infant seats for children less than 9 months old; child seats for children from 9 months to 4 years old; booster seats for children from 4 to 10 years old.
Fines for traffic violations are collected on the spot in either Euros or travelers' checks. The fines for not wearing seat belts, driving through a red light, driving while intoxicated, and driving without a license are extremely high, and can even include the confiscation of your vehicle.
Gas
In the larger cities of France, you will find many gas stations open 24 hours. Gasoline tends to cost more when you buy it at a station on the highway. Retail gasoline prices in France average US$5.09 per gallon (as of Jan. 5, 2005) — or around €1,10 per liter.
Tolls
The toll highways in France, known as autoroutes à péage, are marked by blue signs with the letter "A". Charges for using the autoroutes are payable at the frequent toll gates (or péages), and can get rather expensive.
To give you an idea of the costs involved, the toll from Calais to Reims is €15.70 and from Calais to Paris €16.46, while Paris direct to Marseille or Nice costs €42.23 and €54.88 respectively. A journey from Calais to Montpellier, taking in three different toll gates, would cost you around €57.80.
Although they may be expensive, these superhighways are the only realistic way of covering large distances in a single day. If you have more time and don't want to travel on autoroutes, the best way to avoid them is to use the Bison Futé map, free from gas stations, which gives all manner of alternative routes (often signed as itinéraire bis) across the country.
Rest Areas & Service Stations
Rest areas are located every 6 miles/10 km, auto services and food service can be found every 20-25 miles/30-40 km, and motels are found every 60 miles/100 km or so. Service stations on the autoroutes will have children's areas equipped with diaper changing stations, bottle warmers, and high chairs.
Parking
Parking is strictly regulated in urban areas, and is permitted only in spaces painted in white. Those marked in yellow are reserved for commercial and official vehicles only. Areas with yellow curbs may be used to drop off or pick up passengers, but parking is not allowed there. No parking is permitted on certain main routes through the center of Paris, labeled axes rouges (red routes).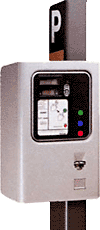 If you see the word Payant, then a parking fee must be paid. Payment machines called horodateurs are located at intervals along the street, where coupons may be purchased for 15 minutes to 2 hours of parking time. You must leave the coupon inside the vehicle, visible through the windshield on the driver's side. The fine for non-payment is about €12.
Many downtown areas have modern and secure underground parking structures. Rates are higher than parking on the street, but they do offer more space and longer parking periods.
Should you happen to be staying in Paris, you will undoubtedly notice that many Parisians seem to park anywhere, anytime — including up on the curbs and sidewalks. We do not recommend that you imitate this practice!
If you are unable to find your vehicle after parking it illegally, it has probably been impounded. To find out, call the Préfecture de Police. They will give you instructions on how to retrieve your vehicle. Be prepared to pay a fine and a towing fee when you claim your vehicle. Don't wait too long, since storage fees can be rather high.
Advantages of Driving
Though the prices of gas and highway tolls in France may seem exorbitant to Americans, the costs of driving can be amortized if your car carries a full complement of passengers. Compared to the prices of rail passes for a group of four, an automobile can actually cost less than traveling by train, while offering far greater independence. The extra mobility and carrying capacity also make it much easier to camp.
But, practical considerations aside, the great gain is the freedom to explore places that would otherwise remain inaccessible — in particular the sparsely populated upland areas like the Massif Central and the mountain ranges of the Alps and Pyrénées. Here, too, many roads have been constructed with the motorist in mind, to provide spectacular views of otherwise unreachable places — roads like the Corniche des Cévennes, the Route Napoléon in the western Alps, and the high Alpine and Pyrenean passes — although you need to remember that the highest roads are snowbound through winter and spring (you get plenty of notice from information boards on the approach roads).