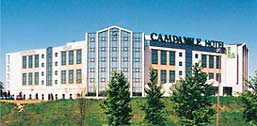 A leading brand of the Groupe Envergure, Campanile Hôtels offer 360 convenient locations throughout Europe — generally situated near major roads and urban centers. Many properties are arranged "motel-style" around a central car park, so you can often park close to your room.
Since opening their first hotel in 1976, Campanile has grown quickly — managing 30 properties by 1980. Starting in 1985, the chain began its European expansion in countries such as Belgium, Luxembourg, the Netherlands, Portugal, Spain, and the U.K. By 1986, Campanile had opened its 100th hotel. The chain became established in Eastern Europe in 1999, with its first property in Poland.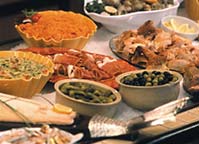 Campanile is widely known for its success in combining comfort with modern style, offering the practicality of a 2-star (tourist class) hotel chain while maintaining its standards of friendly and gracious customer service. The sound-proofed, air-conditioned rooms are fully ensuite (private bathroom) and include color satellite TV, radio, and direct-dial phone. One child under 16 stays free in their parents' room (max. 3 guests per room; families over 3 can request adjoining rooms).
Most locations — with the exception of a few in city centers — also have restaurants offering good value food and a hearty breakfast buffet. Groupe Envergure has announced that all of its Campanile properties will be completely renovated in 2003, assuring guests of even more modern conveniences and continued standards of comfort.
Key Features of Campanile's Success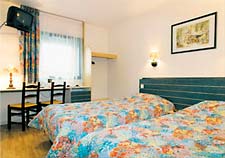 A personal welcome:
Each hotel is managed by a host couple to ensure their clients are given a warm welcome and that a family atmosphere prevails. The decor and setting support a feeling of hospitality and friendliness.
The Campanile welcome also means attentive service to clients, whether adults or children: games and special set meals for children, television with a Canal+ channel and hot-drink facilities in the rooms.
That extra touch of Campanile service:
A reception/restaurant building separated from the building containing the rooms to facilitate individual independence, a client car park, sober comfortable rooms with bathroom;
Hotels open every day of the year with a "Borneo" reception terminal that accepts credit cards to provide 24 hour access to the rooms;
Unlimited self-service type buffets and set meals to suit everyone's appetite; simple, traditional cooking that is always high quality and that offers local and regional specialities;
Meals can be served on trays in rooms in the event of a late arrival;
Breakfast served in the rooms on Sundays;
Guest rooms can also double as offices with direct telephone lines, work surface, I.T. sockets, etc. to meet individual requirements;
A conference room seats between 15 and 40 people — for work-related meetings, cocktail parties, supper parties, etc.
A central European reservation service, Minitel service and an Internet server to enable clients to choose from over 360 hotels in Europe.
You will certainly be pleased with the thoughtful little touches and conveniences which are standard fare in this chain's facilities. The Campanile staff and management look forward to serving you during your travels to France!
Use the Search Form below to locate properties in the city of your choice, specifying the name of the hotel (if you know it). Leaving the hotel name blank will return results for all properties in that city — depending on the location, this list may be rather long. On the other hand, if you specify the hotel and leave the city blank, you will be presented with all locations of that hotel name (or chain) throughout France — or any other country which you may have selected. This latter method is useful, for example, if you wished to find all Mercure Hotels (or any other brand) in the world.
For your convenience, all search results will list first those establishments for which we have negotiated special Internet rates. All listings will also show the range of their rates for different rooms and suites, with links to view pictures and particulars for each hotel. Once you have selected a facility which meets your preferred location, amenities, budget, and travel dates — you can instantly reserve your hotel stay using our totally secure booking service.
Book all your travel arrangements at Discover France...
We look forward to serving your every travel need — including air, auto, bus and rail transportation, guided tours, hotel and youth hostel reservations, vacation rentals, cruises, currency exchange and more. Discover France is constantly expanding its services to better reflect the needs of our visitors. We are dedicated to your satisfaction, and grateful for your patronage and support.