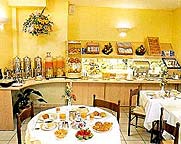 Comfort is part of the worldwide Choice Hotels International system of over 5,000 Inns, Hotels, Suites, and Resorts which include Sleep, Comfort, Quality, Clarion, Econo Lodge, Rodeway, and MainStay Suites.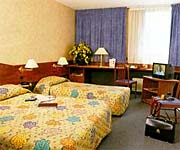 Designed to meet the specific needs of today's traveler, Comfort Hotels & Inns offer well-established, mid-priced lodgings with a full range of value-added amenities. All Inns, Hotels and Suites within the Comfort family offer a 100% satisfaction guarantee. If a Comfort Hotel guest is not pleased with his/her accommodations or service, s/he need only inform the front desk staff. If they cannot correct the situation to the guest's satisfaction, s/he will not be charged.(1)
(1) Guest must give hotel staff opportunity to correct situation; one night maximum credit if resolution is not satisfactory.
Along with highly competitive rates, Comfort Hotels offer guests exceptional rooms and great amenities. Comfort Suites hotels feature large, oversized rooms with partially divided sleeping and seating areas. By maintaining such "luxury on a budget", Comfort has built unparalleled chain loyalty with guests.
Check prices & availability for your travel dates:
| | |
| --- | --- |
| Paris (by arrondissement) | |
| | |
| --- | --- |
| Other Regions | |
| | |
| --- | --- |
| | Choose another region from the menu below: |
Use the Search Form below to locate properties in the city of your choice, specifying the name of the hotel (if you know it). Leaving the hotel name blank will return results for all properties in that city — depending on the location, this list may be rather long. On the other hand, if you specify the hotel and leave the city blank, you will be presented with all locations of that hotel name (or chain) throughout France — or any other country which you may have selected. This latter method is useful, for example, if you wished to find all Mercure Hotels (or any other brand) in the world.
For your convenience, all search results will list first those establishments for which we have negotiated special Internet rates. All listings will also show the range of their rates for different rooms and suites, with links to view pictures and particulars for each hotel. Once you have selected a facility which meets your preferred location, amenities, budget, and travel dates — you can instantly reserve your hotel stay using our totally secure booking service.
Book all your travel arrangements at Discover France...
We look forward to serving your every travel need — including air, auto, bus and rail transportation, guided tours, hotel and youth hostel reservations, vacation rentals, cruises, currency exchange and more. Discover France is constantly expanding its services to better reflect the needs of our visitors. We are dedicated to your satisfaction, and grateful for your patronage and support.