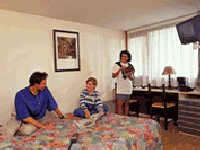 Groupe Envergure is the budget hospitality division of the Société du Louvre, whose origins date back to the building of the Grand Hôtel du Louvre in 1855 (see history). Managing a number of strong brands, Envergure is acknowledged for its expertise in both the hotel and restaurant industries. Its hotel properties aim to provide their clientele with the best value for money in a warm and friendly environment.
Having quickly grown to become Europe's second largest group in the growing budget sector — managing over 800 hotels and restaurants in Europe, the Envergure family includes such recognized brands as Campanile, Kyriad Hôtels, Climat de France, Côte à Côte (restaurants), and Première Classe.

Envergure continues to develop a dynamic growth strategy, as evidenced by the 1999 acquisition of the Hôtels & Compagnie Group, the establishment of a Campanile presence in Poland, and the launch in 2001 of its new 2-star brand, Kyriad.

With its emphasis on excellent customer service, the success of Envergure lies in the hands of the women and men who manage and coordinate their hotels, who greet their guests like friends, who are constantly attentive to their requirements and who do everything to ensure that guests have a most enjoyable and relaxing visit.
We invite you to come experience the Envergure Approach, combining the best traditions of the hotel industry: the highest standards of friendliness, an art of gracious living, and the modern facilities which today's savvy leisure or business traveler expects.
Use the Search Form below to locate properties in the city of your choice, specifying the name of the hotel (if you know it). Leaving the hotel name blank will return results for all properties in that city — depending on the location, this list may be rather long. On the other hand, if you specify the hotel and leave the city blank, you will be presented with all locations of that hotel name (or chain) throughout France — or any other country which you may have selected. This latter method is useful, for example, if you wished to find all Mercure Hotels (or any other brand) in the world.
For your convenience, all search results will list first those establishments for which we have negotiated special Internet rates. All listings will also show the range of their rates for different rooms and suites, with links to view pictures and particulars for each hotel. Once you have selected a facility which meets your preferred location, amenities, budget, and travel dates — you can instantly reserve your hotel stay using our totally secure booking service.
Book all your travel arrangements at Discover France...
We look forward to serving your every travel need — including air, auto, bus and rail transportation, guided tours, hotel and youth hostel reservations, vacation rentals, cruises, currency exchange and more. Discover France is constantly expanding its services to better reflect the needs of our visitors. We are dedicated to your satisfaction, and grateful for your patronage and support.