Conrad Hilton purchased his first hotel in Cisco, Texas back in 1919, and the first establishment to carry the Hilton name was erected in Dallas in 1925. By 1943, Hilton had become the first "coast-to-coast" hotel chain in the United States; and in 1949, opened its first property outside the U.S., in San Juan, Puerto Rico. Hilton went on the New York Stock Exchange in 1946, and Conrad Hilton purchased the Waldorf Astoria in 1949.
Today, Hilton Hotels Corporation is recognized internationally as a preeminent hospitality company, which develops, owns, manages or franchises 2,000 hotels, resorts and vacation ownership properties. Its portfolio includes some of the most highly regarded hotel brands, including Hilton®, Doubletree®, Embassy Suites Hotels®, Hampton Inn®, Hampton Inn & Suites®, Harrison Conference Centers®, Hilton Garden Inn®, Homewood Suites® by Hilton and Conrad™.
Hilton offers several world-renowned marquee properties, including: Beverly Hilton (Los Angeles), Cavalieri Hilton in Rome, Hilton Athens, Hilton San Francisco, Hilton New York, Hilton Hawaiian Village, Hilton Waikoloa Village, Paris Hilton, and others. In France, there are currently six Hilton Hotels: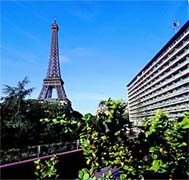 Noga Hilton Cannes
50, boulevard de la Croisette, 06414 Cannes
Located on the Croisette, where glimpses of film stars are always a possibility at certain times of the year, Noga Hilton Cannes comprises 234 rooms and suites....
Hilton Lyon
70, quai Charles de Gaulle, 69463 Lyon
The Hilton Lyon, which is linked directly to the Congress Centre, stands in an exceptional setting between the banks of the Rhône River and the Tête d'Or Park, blending perfectly into the architectural landscape of the Cité Internationale complex....
Hilton Paris
18, avenue de Suffren, 75015 Paris
Situated on the elegant avenue de Suffren right next to the Eiffel Tower, the Hilton Paris enjoys a unique location in the heart of the 'City of Lights'....
Hilton Paris Arc de Triomphe
51-57, rue de Courcelles, 75008 Paris
Centrally located in the 8th arrondissement across from the Parc Monceau, a short walk to the Champs-Elysées and the shops of Faubourg Saint-Honoré, the Hilton Arc de Triomphe Paris takes its inspriration from the Art Deco period....
Hilton Paris Charles de Gaulle Airport
Rue du Verseau, 95708 Roissy-en-France
Located between the Airport terminals, and linked by a complimentary shuttle service, the Paris Charles de Gaulle Airport Hilton offers 387 soundproof guest rooms and suites....
Hilton Paris Orly Airport
Orly Sud 267, Orly Aerogare Cedex, 94544 Paris
Adjacent to the Orly Airport, in the heart of a dynamic business area and only 20 minutes from the center of Paris, the Hilton Paris Orly Airport features 352 rooms and Junior Suites....
Hilton Strasbourg
Avenue Herrenschmidt, 67000 Strasbourg
Located in the Capital of Europe, the Strasbourg Hilton is opposite the Music and Convention Center, minutes away from such eminent European institutions as the Council of Europe, the Palace of Human rights and the new building of the European Parliament....
Use the Search Form below to locate properties in the city of your choice, specifying the name of the hotel (if you know it). Leaving the hotel name blank will return results for all properties in that city — depending on the location, this list may be rather long. On the other hand, if you specify the hotel and leave the city blank, you will be presented with all locations of that hotel name (or chain) throughout France — or any other country which you may have selected. This latter method is useful, for example, if you wished to find all Mercure Hotels (or any other brand) in the world.
For your convenience, all search results will list first those establishments for which we have negotiated special Internet rates. All listings will also show the range of their rates for different rooms and suites, with links to view pictures and particulars for each hotel. Once you have selected a facility which meets your preferred location, amenities, budget, and travel dates — you can instantly reserve your hotel stay using our totally secure booking service.
Book all your travel arrangements at Discover France...
We look forward to serving your every travel need — including air, auto, bus and rail transportation, guided tours, hotel and youth hostel reservations, vacation rentals, cruises, currency exchange and more. Discover France is constantly expanding its services to better reflect the needs of our visitors. We are dedicated to your satisfaction, and grateful for your patronage and support.