Holiday Inn® is one of the divisions of Six Continents™ Hotels, whose 3,200 worldwide hospitality properties also include Inter-Continental® Hotels and Resorts, Crowne Plaza® Hotels and Resorts, Holiday Inn Select®, Holiday Inn Express®, Holiday Inn Garden CourtSM, Holiday Inn Family SuitesSM Resorts, and Staybridge Suites® by Holiday Inn®.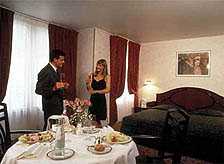 No matter where you're traveling, you'll find a familiar place to stay at Holiday Inn® hotels. With more than 1,500 Holiday Inn full-service facilities around the world, you'll be sure to find a convenient location for your vacation or business trip. We offer an array of features to make your stay more enjoyable, including comfortable, air-conditioned guest rooms equipped with coffeemakers, hair dryers and irons (some features may vary by location).
Our guests are pampered by a full complement of amenities, such as restaurants and room service, a relaxing lounge, swimming pool, and fitness center. And — for the business traveler — today's Holiday Inn offers 24-hour business services, meeting facilities, the Holiday Inn Meeting Promise™ and the Priority Club® Rewards program. In short, the modern Holiday Inn offers you more of what you're looking for...
There are a handful of Holiday Inns in the Paris region, as well as another dozen throughout France, ranging from Angers to Vélizy. The 4-star Holiday Inn Paris-Opera, for example, offers an elegant "Belle Epoque" decor, 3 non-smoking floors available, 92 rooms with fully-equipped bath, desk, modem/data port connection, direct-dial phone, hair dryer, iron & ironing board, trouser press, in-room safe, individual climate control, mini-bar, pay-per-view movies, remote control cable TV, AM/FM radio and alarm clock.
Use the Search Form below to locate properties in the city of your choice, specifying the name of the hotel (if you know it). Leaving the hotel name blank will return results for all properties in that city — depending on the location, this list may be rather long. On the other hand, if you specify the hotel and leave the city blank, you will be presented with all locations of that hotel name (or chain) throughout France — or any other country which you may have selected. This latter method is useful, for example, if you wished to find all Mercure Hotels (or any other brand) in the world.
For your convenience, all search results will list first those establishments for which we have negotiated special Internet rates. All listings will also show the range of their rates for different rooms and suites, with links to view pictures and particulars for each hotel. Once you have selected a facility which meets your preferred location, amenities, budget, and travel dates — you can instantly reserve your hotel stay using our totally secure booking service.
Book all your travel arrangements at Discover France...
We look forward to serving your every travel need — including air, auto, bus and rail transportation, guided tours, hotel and youth hostel reservations, vacation rentals, cruises, currency exchange and more. Discover France is constantly expanding its services to better reflect the needs of our visitors. We are dedicated to your satisfaction, and grateful for your patronage and support.