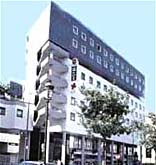 Kyriad is the all new brand of Groupe Envergure, created by a merger between the best properties of the Clarine and Climat de France chains. Managing more than 160 hotels across Europe, Kyriad offers a differentiated service in the 2-star (tourist class) hospitality sector — by meeting the new requirements of today's traveler for a facility offering guaranteed quality while not being excessively standardized.
Many Kyriad Hotels are situated conveniently near motorways and main roads, while others are well-placed for exploring the centers of towns and cities. All the hotels offer free accommodation to 1 child under 12 in their parents' room, and some hotels offer family rooms — effectively triple plus rooms.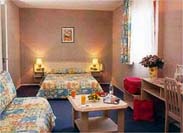 Kyriad Hotels don't look like any other! No matter which Kyriad property you choose for your itinerary, you will be sure to discover different features, individual advantages and a unique personality, while our large network is equipped to provide the extra attention and services you expect. You can be assured that every facility is governed by Kyriad's high standards of hospitality and comfort!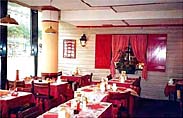 Our dedicated staff will constantly seek to delight and impress you. You will find proof of this in the reception area — where we place a bouquet of fresh-cut flowers and a snack tray to welcome you; and in your room — where you will find pastries and a complimentary bedside booklet. Members of staff in the hotels will greet you in a warm, personal way that makes all the difference.
Since Kyriad hotels are unique, our rooms have a personal feel, whilst at the same time complying with the utmost quality standards. At breakfast, an ample buffet service will enable you to start the day filled with energy. In all its restaurants, Kyriad Hotels offer a range of specialties and regional dishes that will delight your gastronomic senses.
Use the Search Form below to locate properties in the city of your choice, specifying the name of the hotel (if you know it). Leaving the hotel name blank will return results for all properties in that city — depending on the location, this list may be rather long. On the other hand, if you specify the hotel and leave the city blank, you will be presented with all locations of that hotel name (or chain) throughout France — or any other country which you may have selected. This latter method is useful, for example, if you wished to find all Mercure Hotels (or any other brand) in the world.
For your convenience, all search results will list first those establishments for which we have negotiated special Internet rates. All listings will also show the range of their rates for different rooms and suites, with links to view pictures and particulars for each hotel. Once you have selected a facility which meets your preferred location, amenities, budget, and travel dates — you can instantly reserve your hotel stay using our totally secure booking service.
Book all your travel arrangements at Discover France...
We look forward to serving your every travel need — including air, auto, bus and rail transportation, guided tours, hotel and youth hostel reservations, vacation rentals, cruises, currency exchange and more. Discover France is constantly expanding its services to better reflect the needs of our visitors. We are dedicated to your satisfaction, and grateful for your patronage and support.