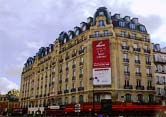 The Libertel brand, a member of the Mercure network of Accor hotels, boasts over 45 two- and three-star hotels. With a collection of 38 entirely renovated properties in the heart of Paris, Libertel's charm is close at hand in every strategic corner of the French capital. Libertel properties also occupy city center locations in the French provinces — Bordeaux, Deauville, Dijon, Lyon, Rodez, Saint-Tropez — and in Belgium at Brussels.

Libertel hotels are classified into three categories reflecting their location, facilities and services: Libertel Grande Tradition (3-star and above), Libertel Tradition (3-star) and Libertel (2-star). But whatever its category, every Libertel hotel conveys its own distinct personality through its architecture and interior design, offering a genuinely personal welcome and an impeccable level of comfort and service.

As is the case with all Mercure network hotels, guests of Libertel who are age 55 or older may share their room with a second person (spouse, daughter or son, brother or sister, or even a friend) at no additional charge — i.e. a double room for the price of a single. Breakfast for the second person is also free of charge (a copious, all-you-can-eat "buffet" breakfast in the restaurant or continental breakfast in your room).
Use the Search Form below to locate properties in the city of your choice, specifying the name of the hotel (if you know it). Leaving the hotel name blank will return results for all properties in that city — depending on the location, this list may be rather long. On the other hand, if you specify the hotel and leave the city blank, you will be presented with all locations of that hotel name (or chain) throughout France — or any other country which you may have selected. This latter method is useful, for example, if you wished to find all Mercure Hotels (or any other brand) in the world.
For your convenience, all search results will list first those establishments for which we have negotiated special Internet rates. All listings will also show the range of their rates for different rooms and suites, with links to view pictures and particulars for each hotel. Once you have selected a facility which meets your preferred location, amenities, budget, and travel dates — you can instantly reserve your hotel stay using our totally secure booking service.
Book all your travel arrangements at Discover France...
We look forward to serving your every travel need — including air, auto, bus and rail transportation, guided tours, hotel and youth hostel reservations, vacation rentals, cruises, currency exchange and more. Discover France is constantly expanding its services to better reflect the needs of our visitors. We are dedicated to your satisfaction, and grateful for your patronage and support.