With a network of 149 properties and 29,325 rooms in 50 countries, Sofitel is the premium hotel brand of Accor. To establish a top-tier position in the highly competitive deluxe hotel industry, Accor works with leading specialists, from world-renowned architects and top interior designers, to award-winning chefs. In prime business and leisure destinations the world over, discerning international travelers with a penchant for art, culture and luxury know that Sofitel quality will always meet their expectations.

The prestige of our establishments has made Sofitel internationally synonymous with the best in hospitality. Yet every Sofitel location is unique, revealing the soul of the destination with a "story" that affords guests new and memorable experiences throughout their stay. Sofitel guest rooms offer all the advantages and facilities of international class hotels, while also adopting the very best of local cultures.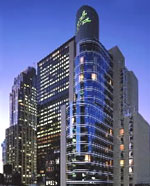 In the finest tradition of French hôtellerie, Sofitel makes culinary arts a centerpiece of refined living. Indeed, this passion for taste has earned our restaurants myriad awards and recognition. Sofitel's chefs always manage to delight both the eyes and the palate, revealing the genius of each new season, combining time-honored expertise with surprising creativity.
Business travelers will find all strategic resources provided at Sofitel. Meeting rooms are equipped with the latest computer and communications technologies; customized catering services are available for everything from a simple coffee break to a prestige reception; and our specially trained meeting organizers listen carefully to all your needs and provide hands-on support throughout your event.
Use the Search Form below to locate properties in the city of your choice, specifying the name of the hotel (if you know it). Leaving the hotel name blank will return results for all properties in that city — depending on the location, this list may be rather long. On the other hand, if you specify the hotel and leave the city blank, you will be presented with all locations of that hotel name (or chain) throughout France — or any other country which you may have selected. This latter method is useful, for example, if you wished to find all Mercure Hotels (or any other brand) in the world.
For your convenience, all search results will list first those establishments for which we have negotiated special Internet rates. All listings will also show the range of their rates for different rooms and suites, with links to view pictures and particulars for each hotel. Once you have selected a facility which meets your preferred location, amenities, budget, and travel dates — you can instantly reserve your hotel stay using our totally secure booking service.
Book all your travel arrangements at Discover France...
We look forward to serving your every travel need — including air, auto, bus and rail transportation, guided tours, hotel and youth hostel reservations, vacation rentals, cruises, currency exchange and more. Discover France is constantly expanding its services to better reflect the needs of our visitors. We are dedicated to your satisfaction, and grateful for your patronage and support.