Overview
Founded in 1991, Summit Hotels & Resorts has rapidly grown to become a truly prestigious collection of luxury, independently-owned hotels. In 2001, we celebrated our 10th anniversary with the launch of a dynamic new identity, reflecting the progressive nature of the company. With more than 160 hotels, in over 125 destinations and 45 countries worldwide, Summit Hotels & Resorts provides the ultimate in luxury for the discerning guest. Collectively, our hotels are linked by a common thread of excellence and by a passionate commitment to deliver hospitality of outstanding quality.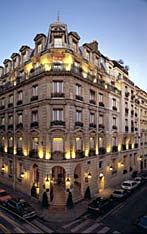 We also understand that exceptional service does not begin and end with your hotel stay. This web site provides a wealth of information about our hotel members, special programs and services — as well as a secure and efficient reservations system. Our extensive international network of customer service and support ensures that help and advice is just a phone call away for our valued guests.
Properties in Paris
Hôtel Balzac
Address: 6, rue Balzac, 75008 Paris
This beautiful Belle-Epoque town-house is an intimate and charming hotel superbly located in the very heart of Paris just a few steps from the Arc de Triomphe and the world-renowned Champs-Elysées Avenue. From the moment you enter the wonderful Italian courtyard-style lobby, you will feel the atmosphere of this luxurious haven of peace. From the fabulous terrace of the Royal Suite, the Eiffel Tower looms majestically over the Parisian rooftops. But wherever you are in this gorgeous hotel, you will feel totally indulged, with charming, classic décor of the finest quality and personal service to match.
(check prices & availability)
Hôtel François 1er
Address: 7, rue Magellan, 75008 Paris
In the eternally romantic city of Paris, hidden in a charming side street off the Champs-Elysées, lies an intimate and stylish retreat, the Hôtel François Premier. Recently renovated, from the glistening marble lobby to the sumptuous lounges, this boutique hotel exudes comfort and refinement. Spacious rooms and suites are decorated with plush furnishings, handmade cornices and luxurious fabrics, all designed especially for the hotel by architect Pierre Yves Rochon. Enjoy international cuisine in the grandeur of your room, or indulge in classic French fare and Scandinavian specialities in the elegant restaurant. Theatre, cabaret, shopping and a wealth of other Parisian delights await outside.
(check prices & availability)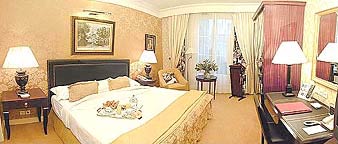 Hôtel Napoléon
Address: 40, avenue de Friedland, 75008 Paris
In the shadow of the Arc de Triomphe, moments from the Champs-Elysées, is the prestigious Hôtel Napoléon. This beautiful art deco hotel, steeped in history, has welcomed numerous guests including Errol Flynn, Jean Gabin and Orson Welles. Adorned with Napoleonic artwork and elegant Directoire furniture, the hotel blends tradition with modernity. Start the day with breakfast on your terrace, overlooking the Eiffel Tower and the romantic rooftops of the city. Superb shopping, historical monuments and world-famous sights await on your doorstep. After a busy day, retreat to the hotel to discover an inimitable sense of warmth, character and charm — a real home away from home in the heart of Paris.
(check prices & availability)
Hôtel San Regis
Address: 12, rue Jean Goujon, 75008 Paris
The Hôtel San Regis is situated only one block away from Avenue Montaigne and all the major fashion houses — their chic patrons often pass by, adorned in creations of every jeweled color. This vibrant aspect of Parisian life is fittingly reflected in the hotel's stunning and individually decorated rooms. Each features bold wall coverings and fabrics of exquisite design, as well as authentic 18th- and 19th-century antiques. Since first opening its doors in 1923, the Hôtel San Regis has come to represent everything that is wonderful about Paris, with the ultimate in elegance and style.
(check prices & availability)
Properties in Deauville (Département du Calvados, Basse-Normandie)

Hôtel du Golf
Address: Le Mont Canisy, St. Arnoult, 14800 Deauville
Located at the top of Mont Canisy, a five minute drive from the heart of Deauville, the black and white timbered Hôtel du Golf affords wonderful panoramic views of the sea and the Normandy landscape. The accents here are on sport, with golf paramount — 27 challenging holes spreading over acres of lush, green countryside. After a testing round, guests retire to the Club House restaurant and bar, or back to the hotel itself to sample the fine cuisine and superb service of La Pommeraie restaurant and relax in the comfort of beautifully appointed guest rooms.
(check prices & availability)
Normandy Hotel
Address: 38, rue Jean Mermoz, 14800 Deauville
A seafront landmark since 1912, the Hotel Normandy is a grand hotel of singular charm. The facade of pale green timber, whimsical turrets, dormer windows and interior courtyards of chequered stone contrast with sumptuous guestrooms, offering every modern comfort. Classic dishes of the Normandy kitchen are re-interpreted in the gastronomic menus of the restaurant La Belle Epoque. Guests can relax beside the pool or chance their luck at Deauville's magnificent casino with its charming gaming rooms, restaurant, Regine's nightclub and lavish floor show, which can be reached through an enclosed gallery from the hotel.
(check prices & availability)
Properties in La Baule (Département de la Loire-Atlantique, Pays de la Loire)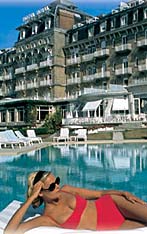 Hôtel Hermitage
Address: 5, esplanade Lucien Barrière, BP 173 - La Baule Cedex 44504
The majestic Hôtel Hermitage has graced La Baule's glorious Atlantic beachfront since 1926 and today offers an elegant and chic haven. Luscious gardens surround the heated, saltwater pool and create the setting for the hotel's fabulous seafood restaurant, a favourite lunchtime haunt. In the evening during summer, guests can enjoy gourmet cuisine and attentive service in traditional French style at the Hermitage's second restaurant. The incomparable sporting and leisure facilities of Le Tennis Country Club de La Baule, the Thalgo Seawater Treatment Centre and the La Baule Casino are all within a short stroll of the hotel.
(check prices & availability)
Hôtel Royal - Thalasso
Address: 6, avenue Pierre Loti, 44500 La Baule
The rustic stone and wrought iron balconied façade of the Royal-Thalasso conceals a grand hotel of great charm and style. Standing in tree-shaded gardens with paths leading down to La Baule's famous beach, it is linked directly to the Thalgo — La Baule Thalassotherapy Centre, where state of the art facilities offer sea water therapy and beauty treatments. Well-being is promoted in the hotel's health food restaurant, one of the three fine dining venues which include the beach front terrace, Le Ponton. A heated sea water swimming pool takes full advantage of the mild Breton climate and guests in search of activity may enjoy free access to golf, tennis and bicycle riding nearby.
(check prices & availability)
Property in Cannes (Département des Alpes-Maritimes, Provence Alpes Côte-d'Azur)
Gray d'Albion
Address: 38, rue des Serbes, 06400 Cannes
In the heart of Cannes and 50 meters from La Croisette and the Mediterranean Sea, the Gray d'Albion combines every modern comfort and amenity with the tradition and elegance of a luxury hotel. Most of the hotel's spacious rooms have a balcony overlooking the old city or palmed central courtyard. The Gray d'Albion's Le Royal Gray gourmet restaurant is one of the most highly acclaimed in Cannes. During the summer months, lunch is served al fresco beside the hotel's immaculate private beach, from which guests can enjoy a variety of watersports. When night falls, the rich and famous rendezvous at the Piano Bar, Jane's Club and the nearby casino.
(check prices & availability)
---
Use the Search Form below to locate properties in the city of your choice, specifying the name of the hotel (if you know it). Leaving the hotel name blank will return results for all properties in that city — depending on the location, this list may be rather long. On the other hand, if you specify the hotel and leave the city blank, you will be presented with all locations of that hotel name (or chain) throughout France — or any other country which you may have selected. This latter method is useful, for example, if you wished to find all Mercure Hotels (or any other brand) in the world.
For your convenience, all search results will list first those establishments for which we have negotiated special Internet rates. All listings will also show the range of their rates for different rooms and suites, with links to view pictures and particulars for each hotel. Once you have selected a facility which meets your preferred location, amenities, budget, and travel dates — you can instantly reserve your hotel stay using our totally secure booking service.
Book all your travel arrangements at Discover France...
We look forward to serving your every travel need — including air, auto, bus and rail transportation, guided tours, hotel and youth hostel reservations, vacation rentals, cruises, currency exchange and more. Discover France is constantly expanding its services to better reflect the needs of our visitors. We are dedicated to your satisfaction, and grateful for your patronage and support.