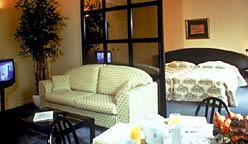 Travelers planning to stay in France for a week or longer in the company of family or friends, may find the notion of a short-term apartment or suite rental to be eminently more economical and flexible than staying in a hotel room. By splitting expenses with several individuals (generally 2 to 6 people), an apartment will usually cost less — plus it offers the convenience and economies of a kitchen for meal preparation. (After all, eating out for every meal can get expensive!) Some of the properties we would recommend for economy, conveniences, and locale include: Apartments Trocadero, Apartments Turenne Picasso, Citadines Apart'hotels, and the Saint-Germain Apartments.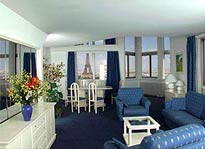 Those discriminating travelers for whom the utmost in luxury is paramount, will find a number of tastefully appointed properties situated in the very best neighborhoods, offering sumptuous condominiums and multi-floor apartments up to 5,000 square feet, with breathtaking views of Paris from dine-in patios. The most superior of these — which royalty, heads of state, and celebrities call their home-away-from-home — include the Hôtels Le Bristol, de Crillon, George V, Meurice, Plaza Athenée, and of course the Ritz.
You can browse selected properties in the menus above, or use the Search Form below to specify the city you plan to visit. Optionally, you may also specify the name of a hotel or private residential property (if you know it) in that city. Although the form defaults to France, you can change the various menus to browse properties by state in the U.S., or by virtually every major country in the world.
For your convenience, all search results will list first those establishments for which we have negotiated special Internet rates. All listings will also show the range of their rates for different rooms and suites, with links to view pictures and particulars for each hotel. Once you have selected a facility which meets your preferred location, amenities, budget, and travel dates — you can instantly reserve your hotel stay using our totally secure booking service.
Book all your travel arrangements at Discover France...
We look forward to serving your every travel need — including air, auto, bus and rail transportation, guided tours, hotel and youth hostel reservations, vacation rentals, cruises, currency exchange and more. Discover France is constantly expanding its services to better reflect the needs of our visitors. We are dedicated to your satisfaction, and grateful for your patronage and support.