McDonald's Corporation is the world's largest chain of hamburger fast-food restaurants, serving around 64 million customers daily at over 33,000 restaurants in 118 countries and territories around the world, employing more than 1.7 million people.
In 2009, France was the company's second most profitable country after the United States. The store on the Champs-Élysées in Paris has the largest sales volume in the world.
Today there are more than 1,135 McDonald's restaurants throughout France, serving 1.2 million customers a day. The company's French slogan is "C'est tout ce que j'aime" ("It's everything I love").
Headquartered in the United States, the corporation was founded by businessman Ray Kroc in 1955 after he purchased the rights to a small hamburger chain operated by the eponymous Richard and Maurice McDonald.
With the expansion of McDonald's into many international markets, the company has become a symbol of globalization and the spread of the American way of life, sometimes referred to as the "McDonaldization" or "macdomination" of society. The brand's prominence has also made it a frequent topic and target of public debates about obesity, corporate ethics and consumer responsibility.
McDonald's primarily sells hamburgers, cheeseburgers, chicken, french fries, breakfast items, soft drinks, shakes and desserts. In response to changing consumer tastes, the company has expanded its menu to include salads, wraps and fruit.
To accommodate the current trend for high quality coffee and the popularity of coffee shops in general, the chain introduced McCafé, a café-style accompaniment to McDonald's restaurants in the style of Starbucks.
The company has opened a McDonald's restaurant and McCafé in the underground premises of the French fine arts museum, the Louvre.
McDonald's has started to offer free wireless Internet access in many countries. Most, if not all, of the Paris locations now offer free Wi-Fi. There is also a free app available for Android and iPhone, which pinpoints the closest McDonald's locations on Google Maps.
Editing, translation and portions written by Ian C. Mills, DiscoverFrance.net. Editorial content, listings, and lay-out are © 2010- Discover France. (Image credits are listed in the Bibliography.) All Rights Reserved.
Company information
Corporate headquarters in France:
McDonald's™ France Services
Address: 1, rue Gustave Eiffel, 78280 Guyancourt
Phone: 01 30 48 60 00 ; 01 30 48 65 28
President: Jean-Pierre Petit (since 18 February 2011)
DG (Directeur Général): Vincent Quandalle
Founded: 31 July 1980
Formation: SASU (Société par actions simplifiée à associé unique)
Capitalization: € 27,450,000.00
Net revenues: € 694,000,000 (2009)
Business registration: RCS Versailles B 722 003 936
SIRET: 72200393609556
Web: http://www.mcdonalds.fr and http://www.aboutmcdonalds.com
Wi-Fi Provider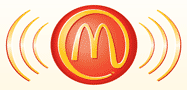 Wi-Fi service at McDonald's in Paris is provided by Global Broadband Internet Access (GBIA), a division of PicoPoint Solutions.
Address: Argon 1, 4751 XC Oud Gastel, The Netherlands
Phone: +31 165 33 22 46 ; Fax: +31 165 33 22 49
E-mail: info@picopoint.com
Web: http://www.picopoint.com/partner/gbia

List of Locations in Paris

(in order by arrondissement)
If you find an error in our listings, or a location which is no longer in operation, we would greatly appreciate if you could report it here. Suggestions for new listings are also welcome. Thank you!
McDonald's Carrousel du Louvre
99, rue de Rivoli, 75001 Paris
Phone: 01 55 35 12 67
Wi-Fi access: free with purchase (network: GBIA ; 802.11b)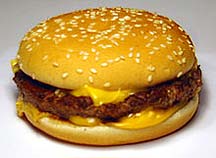 The Quarter Pounder with Cheese
is a Royale Cheese in France.
McDonald's Paris Forum
7, rue de l'Arc en Ciel, 75001 Paris
Phone: 01 42 36 15 80
Wi-Fi access: free with purchase (network: GBIA ; 802.11b)
McDonald's Paris Berger
12, rue Berger, 75001 Paris
Phone: 01 40 26 87 41
Wi-Fi access: free with purchase (network: GBIA ; 802.11b)
McDonald's Paris Louvre
184, rue de Rivoli, 75001 Paris
Phone: 01 55 35 31 75
Wi-Fi access: free with purchase (network: GBIA ; 802.11b)
McDonald's Paris Rivoli
116, rue de Rivoli, 75002 Paris
Phone: 01 40 39 97 05
Wi-Fi access: free with purchase (network: GBIA ; 802.11b)
McDonald's Paris République
19, place de la République, 75003 Paris
Phone: 01 42 72 97 87
Wi-Fi access: free with purchase (network: GBIA ; 802.11b)
McDonald's Hôtel de Ville Paris
5, rue du Renard, 75004 Paris
Phone: 01 40 27 04 21
Wi-Fi access: free with purchase (network: GBIA ; 802.11b)
McDonald's Paris Saint-Michel
65, boulevard Saint-Michel, 75005 Paris
Phone: 01 40 51 86 48
Wi-Fi access: free with purchase (network: GBIA ; 802.11b)
McDonald's Paris Saint-Germain
98, boulevard Saint-Germain, 75005 Paris
Phone: 01 43 54 66 83
Wi-Fi access: free with purchase (network: GBIA ; 802.11b)
McDonald's Paris Austerlitz
2, boulevard de l'Hôpital, 75005 Paris
Phone: 01 45 35 63 18
Wi-Fi access: free with purchase (network: GBIA ; 802.11b)
McDonald's Paris Rue de Rennes
167, rue de Rennes, 75006 Paris
Phone: 01 45 49 18 50
Wi-Fi access: free with purchase (network: GBIA ; 802.11b)
McDonald's Paris Rue Saint-Lazare
119, rue Saint-Lazare, 75008 Paris
Phone: 01 45 22 56 73
Wi-Fi access: free with purchase (network: GBIA ; 802.11b)
McDonald's Paris Champs-Élysées
84, avenue des Champs-Élysées, 75008 Paris
Phone: 01 42 89 63 44
Wi-Fi access: free with purchase (network: GBIA ; 802.11b)
McDonald's Paris Champs-Élysées
140, avenue des Champs-Élysées, 75008 Paris
Phone: 01 53 77 21 06
Wi-Fi access: free with purchase (network: GBIA ; 802.11b)
McDonald's Paris Montmartre
20, boulevard Montmarte, 75009 Paris
Phone: 01 40 22 06 51
Wi-Fi access: free with purchase (network: GBIA ; 802.11b)
McDonald's Paris Cadet
65, rue La Fayette, 75009 Paris
Phone: 01 45 26 67 78
Wi-Fi access: free with purchase (network: GBIA ; 802.11b)
McDonald's Paris Opera
34, boulevard des Italiens, 75009 Paris
Phone: 01 42 46 67 80
Wi-Fi access: free with purchase (network: GBIA ; 802.11b)
McDonald's Paris Galeries Lafayette, inside the store, 4th floor
40, boulevard Haussmann, 75009 Paris
Phone: 01 42 85 05 19
Wi-Fi access: free with purchase (network: GBIA ; 802.11b)
McDonald's Paris Provence
96, rue de Provence, 75009 Paris
Phone: 01 42 81 28 19
Wi-Fi access: free with purchase (network: GBIA ; 802.11b)
McDonald's Paris Caumartin
73, rue Caumartin, 75009 Paris
Phone: 01 48 74 22 12
Wi-Fi access: free with purchase (network: GBIA ; 802.11b)
McDonald's Paris Place de Clichy
10, place de Clichy, 75009 Paris
Phone: 01 48 74 17 00
Wi-Fi access: free with purchase (network: GBIA ; 802.11b)
McDonald's Paris Bonne Nouvelle
2, boulevard Poissonnière, 75009 Paris
Phone: 01 40 22 98 85
Wi-Fi access: free with purchase (network: GBIA ; 802.11b)
McDonald's Paris Magenta
84, boulevard Magenta, 75010 Paris
Phone: 01 40 37 16 55
Wi-Fi access: free with purchase (network: GBIA ; 802.11b)
McDonald's Paris Faubourg du Temple
29, rue du Faubourg du Temple, 75010 Paris
Phone: 01 44 52 71 73
Wi-Fi access: free with purchase (network: GBIA ; 802.11b)
McDonald's Paris Gare du Nord
25, rue de Dunkerque, 75010 Paris
Phone: 01 40 23 91 32
Wi-Fi access: free with purchase (network: GBIA ; 802.11b)
McDonald's Paris Ménilmontant
1, boulevard de Belleville, 75011 Paris
Phone: 01 43 38 55 15
Wi-Fi access: free with purchase (network: GBIA ; 802.11b)
McDonald's Paris Bastille
4, boulevard Richard-Lenoir, 75011 Paris
Phone: 01 49 29 70 32
Wi-Fi access: free with purchase (network: GBIA ; 802.11b)
McDonald's Paris Parmentier
88 bis, rue Parmentier, 75011 Paris
Phone: 01 43 55 25 10
Wi-Fi access: free with purchase (network: GBIA ; 802.11b)
McDonald's Paris Place Léon-Blum
130, boulevard Voltaire, 75011 Paris
Phone: 01 55 25 88 88
Wi-Fi access: free with purchase (network: GBIA ; 802.11b)
McDonald's
159, rue Oberkampf, 75011 Paris
Phone: 01 43 38 55 15
Wi-Fi access: free with purchase (network: GBIA ; 802.11b)
McDonald's Paris Ledru Rollin
80, rue Traversière, 75012 Paris
Phone: 01 53 46 61 55
Wi-Fi access: free with purchase (network: GBIA ; 802.11b)
McDonald's Paris Reuilly Diderot
116, boulevard Diderot, 75012 Paris
Phone: 01 43 45 91 00
Wi-Fi access: free with purchase (network: GBIA ; 802.11b)
McDonald's Paris Porte Dorée
282, avenue Daumesnil, 75012 Paris
Phone: 01 46 28 00 51
Wi-Fi access: free with purchase (network: GBIA ; 802.11b)
McDonald's Paris Place d'Italie
211-213, boulevard Vincent Auriol, 75013 Paris
Phone: 01 45 85 98 18
Wi-Fi access: free with purchase (network: GBIA ; 802.11b)
McDonald's Paris Italie 2, inside the Centre Commercial
30, avenue d'Italie, 75013 Paris
Phone: 01 45 81 30 05
Wi-Fi access: free with purchase (network: GBIA ; 802.11b)
McDonald's Paris Gobelins
2, boulevard Arago, 75013 Paris
Phone: 01 45 35 16 72
Wi-Fi access: free with purchase (network: GBIA ; 802.11b)
McDonald's Paris Tolbiac
82-84, avenue d'Italie, 75013 Paris
Phone: 01 45 89 43 66
Wi-Fi access: free with purchase (network: GBIA ; 802.11b)
McDonald's Paris Nationale
84, rue Nationale, 75013 Paris
Phone: 01 44 23 88 00
Wi-Fi access: free with purchase (network: GBIA ; 802.11b)
McDonald's Paris Choisy
9-11, avenue de Choisy, 75013 Paris
Phone: 01 53 79 26 87
Wi-Fi access: free with purchase (network: GBIA ; 802.11b)
McDonald's Paris Denfert Rochereau
5, avenue du Général Leclerc, 75014 Paris
Phone: 01 42 18 03 78
Wi-Fi access: free with purchase (network: GBIA ; 802.11b)
McDonald's Paris Alésia
71, avenue du Général Leclerc, 75014 Paris
Phone: 01 53 91 20 91
Wi-Fi access: free with purchase (network: GBIA ; 802.11b)
McDonald's Paris Convention
192, rue de la Convention, 75015 Paris
Phone: 01 53 68 64 50
Wi-Fi access: free with purchase (network: GBIA ; 802.11b)
McDonald's Paris Commerce
1, rue du Commerce, 75015 Paris
Phone: 01 45 75 98 01
Wi-Fi access: free with purchase (network: GBIA ; 802.11b)
McDonald's Paris Beaugrenelle
48, rue Linois, 75015 Paris
Phone: none published
Wi-Fi access: free with purchase (network: GBIA ; 802.11b)
McDonald's Paris Aquaboulevard
4, rue Louis Armand, 75015 Paris
Phone: 01 53 98 91 26
Wi-Fi access: free with purchase (network: GBIA ; 802.11b)
McDonald's Paris Victor Hugo
131, avenue Victor Hugo, 75016 Paris
Phone: 01 47 55 45 45
Wi-Fi access: free with purchase (network: GBIA ; 802.11b)
McDonald's Paris Place de Passy
15, rue Duban, 75016 Paris
Phone: 01 42 24 88 76
Wi-Fi access: free with purchase (network: GBIA ; 802.11b)
McDonald's Paris Porte Saint-Cloud
234, avenue de Versailles, 75016 Paris
Phone: none published (location under construction)
Wi-Fi access: free with purchase (network: GBIA ; 802.11b)
McDonald's Paris La Fourche
57, avenue de Clichy, 75017 Paris
Phone: 01 45 22 02 11
Wi-Fi access: free with purchase (network: GBIA ; 802.11b)
McDonald's Paris Wagram
11, avenue de Wagram, 75017 Paris
Phone: 01 47 63 16 10
Wi-Fi access: free with purchase (network: GBIA ; 802.11b)
McDonald's Paris Villiers
145, avenue de Villiers, 75017 Paris
Phone: 01 42 67 11 50
Wi-Fi access: free with purchase (network: GBIA ; 802.11b)
McDonald's Paris Ornano
62, boulevard Ornano, 75018
Phone: 01 42 52 39 08
Wi-Fi access: free with purchase (network: GBIA ; 802.11b)
McDonald's Paris Orsel
2, rue d'Orsel, 75018 Paris
Phone: 01 42 54 65 27
Wi-Fi access: free with purchase (network: GBIA ; 802.11b)
McDonald's Paris Marx Dormoy
6, rue de la Chapelle, 75018 Paris
Phone: 01 46 07 92 83
Wi-Fi access: free with purchase (network: GBIA ; 802.11b)
McDonald's Paris Place Pigalle
18, boulevard de Clichy, 75018 Paris
Phone: 01 42 23 27 27
Wi-Fi access: free with purchase (network: GBIA ; 802.11b)
McDonald's Paris Stalingrad
2, avenue Secrétan, 75019 Paris
Phone: 01 42 06 15 50
Wi-Fi access: free with purchase (network: GBIA ; 802.11b)
McDonald's Paris Porte de Pantin
208, avenue Jean Jaurès, 75019 Paris
Phone: 01 42 45 40 12
Wi-Fi access: free with purchase (network: GBIA ; 802.11b)
McDonald's Paris Crimée
87, avenue de Flandres, 75019 Paris
Phone: 01 40 36 28 04
Wi-Fi access: free with purchase (network: GBIA ; 802.11b)
McDonald's Paris Rue de Belleville
1, avenue Simon Bolivar, 75019 Paris
Phone: 01 42 06 15 38
Wi-Fi access: free with purchase (network: GBIA ; 802.11b)
McDonald's Paris Porte des Lilas
353, rue de Belleville, 75019 Paris
Phone: 01 42 39 14 14
Wi-Fi access: free with purchase (network: GBIA ; 802.11b)
McDonald's Paris Gambetta
7, place Gambetta, 75020 Paris
Phone: 01 46 36 00 66
Wi-Fi access: free with purchase (network: GBIA ; 802.11b)
McDonald's Paris Porte de Bagnolet
Place de la Porte de Bagnolet - 49, rue Belgrand 75020 Paris
Phone: 01 43 64 00 00
Wi-Fi access: free with purchase (network: GBIA ; 802.11b)
McDonald's Paris Porte Montreuil
67, boulevard Davout, 75020 Paris
Phone: 01 40 09 70 88
Wi-Fi access: free with purchase (network: GBIA ; 802.11b)
McDonald's Paris Porte de Vincennes
111, cours de Vincennes, 75020 Paris
Phone: 01 43 67 40 44
Wi-Fi access: free with purchase (network: GBIA ; 802.11b)