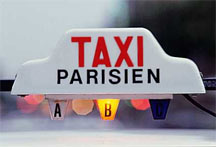 How to recognize if a taxi is available
A taxi is available for hire when its white "taxi" light is illuminated.
If the vehicle is occupied or reserved, the "taxi" light is turned off, and a colored indicator beneath it remains lit to show the current rate being used (A, B, or C).
Starting in July 2010 and by no later than July 2012, the light system will be changed: a green light means "available", and a red light means "occupied".
When a taxi is out of service, its light is covered by an opaque sheath.
When you hail an available taxi on the street, it is required to stop unless it is within 50 meters of a taxi rank where other taxis are waiting for customers.
Parisian Taxi Rates
There are three different fare levels: As illustrated in the table below, Parisian taxi meters will use fare levels A, B, or C – depending on your location, the hour and day of the week.
The starting fare (flag fall) on the meter is €2.30, regardless of route or fare level. There is a supplemental charge of €3.00 for a 4th passenger, and €1.00 for each piece of luggage after the first (weighing in excess of 5kg and placed in the luggage compartment). The minimum final fare for a taxi ride is €6.20 (including supplements).
Fare level A: € 0.92 / km
Fare level B: € 1.17 / km
Fare level C: € 1.42 / km
Note that when a taxi is waiting for a client or moving slowly in dense traffic (less than 40 kph / 24 mph), an hourly rate is applied instead: €29.25/hour at fare level A, €33.80/hour at fare level B, and €30.90/hour at fare level C.
URBAN ZONE
Paris city limits
(inside the boulevard périphérique,
postal codes 75001-75020)
SUBURBAN ZONE
Covers close Paris suburbs (outside the boulevard périphérique); communes in the departments of Hauts-de-Seine, Seine-Saint-Denis, and Val-de-Marne which have agreed to Parisian taxi statutes; Orly & Roissy–Charles-de-Gaulle airports; and Parc des Expositions de Villepinte.
BEYOND THE SUBURBAN ZONE
Monday - Saturday
Monday - Saturday
C

All times
& all days
10:00 a.m. - 5:00 p.m.
A
7:00 a.m. - 7:00 p.m.
B
5:00 p.m. - 10:00 a.m.
B
7:00 p.m. - 7:00 a.m.
C
Sunday (including holidays)
Sunday (including holidays)
7:00 a.m. - midnight
B
Day & night
C
midnight - 7:00 a.m.
C
Holidays
Day & night
B
Site design © 1999- DiscoverFrance.net and The Wharton Group
All Rights Reserved