Hosting over 73 million visitors annually, France offers a tremendous array of accommodations to suit travelers on any budget. Naturally, the greatest selection of luxury four- and five-star hotels – with prices to match – may be found in Paris and in the resort areas bordering the Mediterranean. However, since the French themselves place great importance on the value of their own vacation time, there are an abundance of accommodations throughout the land offering a comfortable séjour at reasonable prices.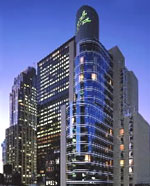 If you prefer to integrate with the natives in your travels, you're likely to find your experience much more culturally satisfying. Assuming you can converse reasonably in the native tongue, do not hesitate to seek out the smaller, less advertised locations. Remember, it is customary for economy lodging (1-star hotels) in most places outside of North America to offer bathrooms which are shared by several guest rooms on a floor or hallway. Americans, who are both accustomed to ultimate privacy and tend to harbor a national phobia about frequent bathing, may find this custom abhorrent. However, you can rest assured that Western European hotel managers take pride in the maintenance and cleanliness of their facilities, no matter how many "stars" the establishment's rating may carry.
That said, it should be noted that most French hotels with ratings of 2 stars or higher will offer private baths and toilets in many of their guestrooms. At 3 stars or higher, this tends to be the rule rather than the exception. Furthermore, the majority of hotels (particularly in Paris) have been renovated during the past decade in response to growing competition.
If you consider yourself to some degree to be a seasoned and adaptable traveler, it is advisable to purchase a few guidebooks well in advance of your trip, in order to pick out accommodations possessing a more local, native flavor – rather than relying on your travel agent for all recommendations. You can also initiate your research online by visiting our Worldwide Hotel Database, where you can browse nearly 40,000 properties by city, country, and/or hotel name.
Yes, if you prefer to be reminded of the U.S. in your choice of lodgings, you can find all the familiar hotel chains – such as Best Western, Comfort, Hilton, Holiday Inn, Quality, Sheraton, etc. However, domestic French chains (Golden Tulip, Ibis, Kyriad, Libertel, Mercure, Novotel, Sofitel, Timhotel, etc.) – which are comparable in terms of standardization, comfort, and cleanliness – may offer a more genuine flavor of the country you are visiting.
Tourists who make an effort to communicate with the French in their own language will find them to be quite hospitable and accommodating. Frankly, the reputation of French rudeness and arrogance is an undeserved one, propagated no doubt by tourists who flaunt expectations of entitlement and special privilege during their forays into foreign cultures.
A good tip to follow in travels anywhere is to treat your hosts with the utmost respect and appreciation; you'll find the kindness repaid many times over. Even if you rely on a pocket dictionary and speak only a little fractured French, make a genuine attempt – instead of disdain you will be greeted by the most appreciative, gracious and overtly helpful hosts. (For great tips on ensuring a warm welcome, be sure to consult Polly Platt's book, "French or Foe?")
Travelers planning to stay in Paris for a week or longer in the company of family or friends, may find the notion of a short-term apartment or suite rental to be eminently more economical and flexible than staying in a hotel room. By splitting expenses with several individuals (generally 2 to 6 people), an apartment will usually cost less – plus it offers the convenience and economies of a kitchen for meal preparation. After all, eating out in Paris can become an expensive proposition!
There are several agencies in Paris offering a broad selection of fully furnished private apartments to suit every taste, budget, and group size. They provide fresh linens and will clean the apartment after your departure. (Other options – such as toiletries, gourmet food platters, and limo pick-up at the airport – are available by prior arrangement.) Each apartment is generally equipped with a number of creature comforts – such as stereo, TV, private telephone, etc. – and the kitchen includes all dishes, cookware and utensils you could need. Our Discover France Travel Center will help you locate suitable quarters in most of Paris' arrondissements.
For the traveler on the tightest of budgets, the vast network of worldwide Hostels offers a warm and congenial rest stop to adventurers of any age. There are more than 4,200 Hostels internationally, with the majority found in central Europe and the British Isles. Paris boasts 130 such facilities, and many hundreds more may be found throughout the provinces – often no more than a half day's bicycle ride apart.
Prices for an overnight stay – which in some cases may include breakfast – range from about €10 - €15 in rural areas to €20 - €30 or so in cities such as Paris. Rental of a sheet-set and bed cover may be extra (check each listing to verify); bringing your own is one way to avoid an extra expense in some hostels. Facilities no longer impose any age limits on their guests, although children (generally under age 16) must be accompanied by an adult.
Dorm-style sleeping quarters are generally – though not always – segregated by gender. An increasing number of hostels also offer private rooms of 3 to 6 beds for families or groups of friends. While some rural locations may still impose a curfew and "lock-out" times, the trend with city hostels has been toward 24-hour accessibility. Nearly all facilities have a kitchen stocked with cookware for preparing your own meals, and many also offer amenities such as a bar or café, secure luggage storage, discounts to local attractions, etc. The "party atmosphere" of some Paris hostels makes them favorite destinations among young travelers.
A number of international membership organizations offer networking among their members in other lands. Whether for the purpose of social contact or to locate members who may welcome you into their homes as a guest during your stay abroad, you should consider investigating this option. For example, the U.S. and International Jaycees (non-profit civic organizations) have a number of chapters which have adopted "sister" cities in a foreign country; such chapters offer reciprocal accommodations in their members' homes. Mensa International and its U.S. counterpart – American Mensa – offer similar benefits through their network of SIGHT coordinators.
Should you live in an area where the Alliance Française has a chapter, stop by a membership meeting or call their office and inquire on suggestions for itineraries and accommodations. The chances are excellent that you will meet someone French or an American traveler who'd be delighted to offer you their recommendations.
---
Author: Ian C. Mills © 1997- – All Rights Reserved.
---
| | |
| --- | --- |
| French & International Hotels | |
| | |
| --- | --- |
| Lodging Links | |
Book a Hotel Room, Suite, or Apartment
Search our database of nearly 40,000 properties worldwide, and book your stay on our secure reservations system. Guaranteed lowest hotel rates (65-70% discounts), special family vacation packages, plus rebates for multiple-night stays. Air travel, car rentals, Eurail passes, short-term apartments & studios, youth hostels, travel insurance, passports, and currency exchange – all available in our one-stop Travel Center.
Camping Directory
For a wonderful family vacation away from the hustle and bustle of cities, consider camping at a relaxing beach retreat or an all-inclusive recreational park in the heart of France. In addition to traditional tent facilities, many campsites offer rentals of bungalows, caravans, chalets and mobile homes to assure a comfortable stay, as well as bicycles or canoes for forays into the countryside.
| | |
| --- | --- |
| Publications | |
Guide Officiel Camping Caravaning
The official guide of the FFCC (Fédération Française de Camping et de Caravaning), with listings for nearly 9,000 sites throughout France. Updated for 2003. Offered through our affiliation with Amazon.fr (shipped from France).
Hostels European Cities
Whether you're looking to party or just need a clean, quiet, affordable place to crash, this guide will get you exactly where you want to go. The authors tell it like it is with their at-a-glance rating system and candid descriptions. Entries include their opinions on cleanliness, hospitality, party potential, safety, what to do and see in the area, and especially good bargains. They'll also tell you which hostels provide extras like Internet access, meals, laundry facilities and more.
| | |
| --- | --- |
| Nominate A Site! | |
Lodging in France
Do you know about a great French lodging site we should list here? If so, please submit it! Are you a writer longing to publish your feature article here? Let us know, and we will send you some guidelines for submissions.