Request a Quote • Luxury Vehicles • Motorhomes, RVs • Driving in France
Thank you for visiting the Discover France Travel Center's Car Rental Department! We are pleased to offer you a wide selection of makes and models, through our affiliation with Auto Europe — a leader in worldwide auto leasing and rentals for over 47 years.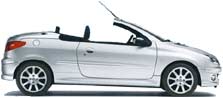 If you were thinking of traveling with family or a few friends by train, consider this: The cost of a car rental will — in most instances — be cheaper than buying FrancePass or EurailPass tickets for your group. You will also enjoy far greater flexibility in scheduling your itineraries and choosing out-of-the-way destinations — if you're so inclined. Feel like taking a walk off the beaten path? Just stash your gear in the trunk, lock it up, and go where you please. Rail travel can't match the freedom and convenience of driving your own car!
Guaranteed Best Rates and Service
Auto Europe guarantees the best rates and service available! We will beat any major competitor's rate that offers a car rental with comparable service, location, terms, and surcharges. Here are just some of the advantages we offer our customers:
Over 4,000 Car Rental Locations Worldwide.
Offices are conveniently located in airports and city centers. Hotel delivery is also available. Free drop-off within each country.
The Greatest Selection of Makes and Models.
Choose from mini/economy, compact, mid- or full-size vehicles, convertibles, luxury sedans, station wagons or vans — from Audi, BMW, Citroën, Jeep, Mercedes-Benz, Nissan, Peugeot, Porsche, Renault, Volkswagen, Volvo, and more. Passenger capacities up to 9 people (incl. driver) are available.
Choice of Transmission and Optional Accessories.
Vehicles are available with automatic or manual transmissions, air conditioning, and optional equipment such as: Infant Seat, Child Seat, Luggage Rack, Ski Rack, Snow Chains (upon request only).(1)
All Rates are Guaranteed in Dollars.
Know before you go! With our rates guaranteed in dollars, there are no surprises in Europe.
Cancellation? No Charge.
Book your car with a partial payment; the balance is due when you return it. A voucher is faxed to you immediately. There are no cancellation or change fees at any time.
Last Minute Booking? No Problem.
Only 8 hours' notice is required and a voucher is autofaxed to you.
24 hour Toll-Free Assistance from Europe.
For any type of assistance from Europe, you can contact us toll-free, 24 hours a day, 7 days a week.
Save Even More on Long Term Rental Rates.
Special discounts off the regular weekly rate. (Minimum rental is 3 days.)
Yes, You Can Drive into Eastern Europe.
Pick up a car in most western European countries and travel to Bosnia, Bulgaria, CIS, Croatia, Czech Republic, Estonia, Hungary, Poland, Russia, Serbia/FRY, Ukraine, Slovenia and Slovakia.(2)
Get a quote for your preferred vehicle & travel dates.
Nationality, Age & License Requirements
To qualify for a car rental from Auto Europe, you must be a resident of North America or the U.K., and planning to stay in the European Union no longer than 185 days in any consecutive 12-month period. (Note: these rentals are not available to residents of European Union countries.)
Our rental packages are available to anyone age 21 or older(3); there is no upper age limit. A valid driver's license is sufficient for all car rentals; although we recommend that you consider acquiring an International Driving Permit or IDP(4), it is not a requirement for our rental agreements.
Our Credo: Excellence in Service & Support
Auto Europe is dedicated to providing our Discover France customers with competitive rates and the best service available anywhere. We do not believe that customers should expect less because they pay less. If you have never used our services before, give us a try!
Browse available models and request a quote now!
We look forward to serving your every travel need — including air, auto, bus and rail transportation, airport shuttle transfers, hotel and youth hostel reservations, city tour and museum passes, currency exchange and more. Discover France is constantly expanding its services to better reflect the needs of our visitors. Please stop by again soon to see what's new! We are dedicated to your satisfaction, and grateful for your patronage and support.
(1) Optional equipment may not be available at all locations and is on request only. Additional charges may apply and are charged locally at time of pick-up.
(2) Travel into Eastern European countries may be limited to certain car makes & models. Vehicle must be returned to the original renting location.
(3) Some models may require a minimum age of 25 for rentals. Drivers under the age of 25 may be required to pay a young driver surcharge.
(4) The IDP is an internationally accepted document that will quickly identify you to foreign officials and expedite all matters pertaining to driving while you are overseas. It also serves as an additional form of identification, valid in 130 countries. Available at all AAA offices, the cost for an IDP is $10. Two passport photos and a valid driver's license are needed to receive an IDP.
(5) Gasoline and highway tolls are not included in your rental.