An Armorican visit – of armies and highwaymen (continued)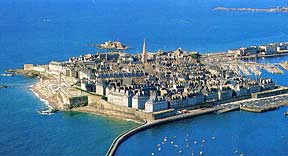 Aerial view of the walled city of Saint-Malo,
Ille-et-Vilaine (35), Brittany.
(click image to enlarge)
We cleaned our plates (real china, not paper) with pieces of crusty French baguette while J-Claude finished cooking a large bowl of haricots verts à l'ail (green beans with garlic) covered with butter and served with pork chops cooked over the camping gas stove they kept in their truck with frying pan and a host of other cooking utensils. This was a far cry from the baloney sandwich on sliced white bread gulped down by an American worker in thirty minutes or less. We'd already been at the table for almost an hour, and hadn't even started the main course!
To accompany the pork chops and haricots, Serge opened a bottle of red wine which he poured liberally. Meanwhile, the conversation about the war continued. I asked a few questions, but was mostly content to listen to Lucien reminiscing about the war and the occupation. During all this time, I couldn't help but wonder about how long these guys normally took for their lunch and whether or not I was keeping them from getting back to work.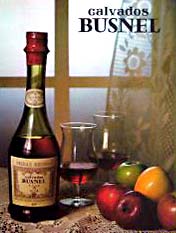 Calvados AOC is made only with
apples grown in Pays d'Auge, a
small region of Normandy.
The main course finished, J-Claude brought out a plate covered with several kinds of French cheeses. I followed their advice, starting with the milder cheese and progressing to the stronger ones.
Throughout the entire meal, both wine and conversation flowed freely, and I was most enjoying the company of these proletariat bons vivants.
We finished off with the obligatory cup of strong French coffee, before Serge broke out a bottle of 90-proof Calvados, an apple-based eau-de-vie produced in Normandy which would serve as the digestif of this memorable meal.
"À plus jamais la guerre!" (No more war, ever!), said Lucien, lifting his glass in a toast.
"À plus jamais la guerre", we all repeated – downing our shots of Normandy apple fire-water.
I looked at my watch. It was 14h30. We'd been sitting on tiny stools around the table in the back of that small truck for almost 2 hours! Quite a lunch break, I thought! American workers should have it so good!
I explained to my gracious hosts that I still had over fifty kilometers to pedal to St. Malo where I hoped to spend the night at the youth hostel there, and that I must be on my way. We all stood outside where I took a few photos and we exchanged addresses with a promise to send copies of the photos as soon as I had them developed.
After bidding each other adieu, I climbed on my bicycle just as the first few drops of rain began to fall, hoping it wouldn't rain too hard. I had assumed that my hosts would be getting back to work, but having noticed that it was raining, albeit ever so slightly, one of them said: "Allez les gars, il pleut; on ne peut pas travailler" (Gentlemen, it's raining; we can't work). So as I was leaving, they were breaking out a deck of cards and taking their seats in the back of the fourgonnette – as everyone knows that you can't paint in the rain.
As I zigzagged down the road, I got to thinking that I might like living in a culture where people live by the maxim: "Doucement le matin; pas trop vite l'après midi." (Easy does it in the morning; not too fast in the afternoon). One could understand why French workers enjoyed on the average 39 days of paid vacation per year, compared to the 12 days of an average American worker. Vive la France!
Marc J. Mailloux was born in 1953 and raised in a French-Canadian community of Rhode Island. The subject of his first book, Discovery on the Katmandu Trail (1987, Quill Publications), explores his embrace of Christianity during a trip to India in 1973. Marc settled in France later that year, where he met his wife, Aline. They have three children – Calix, Justin, and Anaïs. This feature article is an excerpt from a chapter in his book, God Still Loves the French, published by Xulon Press, © 2006; available at most bookstores and online. Reproduced with permission of the author. All Rights Reserved. For further information and reader reviews, visit Amazon.com.
Image Sources: American Cemetery near Omaha Beach, Tristan Nitot (photographer), from Wikimedia Commons. 1/18th-scale model of a 1955 Citroën 2CV fourgonnette (mini panel truck) from Capachat.com, Collections et Passions. U.S. Army troops landing at Omaha Beach on the morning of June 6, 1944, Robert F. Sargent, USCG (photographer), from Wikimedia Commons. Aerial view of the walled city of Saint-Malo, Brittany, photographer unknown, from La Maison du Pêcheur. Calvados Busnel still life, © 1978 Société Ricard, from Memory-Pub.com. Photo of Marc Mailloux and highway workers in Haute Normandie, from Marc Mailloux. All Rights Reserved.

Related Links
American Experience: D-Day (PBS)
Participants describe the planning and execution of the Normandy invasion during World War II, and the battle for the French beaches.
Art Prints: Scenes of Normandy
Browse our selection of 75+ art and photographic prints – featuring charming Norman villages, tranquil landscapes, stunning seaside cliffs, American troop carriers landing at Omaha Beach, and many more extraordinary views.
Cycling Routes in Brittany, France
MapMyRIDE offers more than a dozen suggested bike routes ranging from 4½ to more than 70 miles, complete with maps and brief descriptions.
French Cafés: A Dying Institution (CNN)
CNN reporter Jenna Milly explores the cultural changes in France – a widespread decline in the consumption of wine, the government's campaign against alcoholism, and a proliferation of fast food joints – which have prompted many cafés to close their doors.
Hostel in Saint-Malo
Less than 500 feet from the beach and only an hour's drive to Mont-St-Michel, the Éthic Étapes Patrick Varangot is a comfortable, modern facility with 242 total beds. Rooms range from twin private ensuite (shower & toilet facilities in room) to 6-bed male or female dorms. Average rates are about $22-25/person. Address: 37, avenue du Révérend Père Umbricht, 35400 Saint-Malo.
Hotels of Brittany
If you fancy yourself exploring Breton territory, whether by bicycle or other forms of transport, there are a number of economy (2-star), first-class (3-star), and luxury (4-star) hotels from which to choose – in towns such as Dinan, Lorient, Mont-Saint-Michel, Quimper, Rennes, Saint-Malo, La Trinité-sur-Mer, and Vannes. Simply type "Brittany, France" in the "Enter City" field, and then click "Submit Form".
Hotels of Normandy
Should you prefer to set up your base along the Norman coast, there are a number of economy (2-star), first-class (3-star), and luxury (4-star) hotels from which to choose – in towns such as Cabourg, Caen, Deauville, Le Havre, Lisieux, and Ouistreham. Simply type "Normandy, France" in the "Enter City" field, and then click "Submit Form".
Omaha Beach
This was the code name for one of the principal landing points of the Allied invasion into German-occupied France along the Normandy coast on 6 June 1944, during World War II. (Wikipedia article)
Saint-Malo, Brittany
During the Middle Ages, Saint-Malo was a fortified island at the mouth of the Rance River, controlling not only the estuary but the open sea beyond. Now connected to the mainland, Saint-Malo was combined with the communes of Saint-Servan and Paramé in 1968. It is the most-visited town in Brittany.

Nominate A Site — Submit An Article!
Normandy Tourism
Do you know about a great Normandy Tourism site we should list here? If so, please submit it!
Are you an author, educator, student or traveler who would like to write an article for the enjoyment of our francophile community? Please download our author's guidelines (48K PDF). Thank you!
RETURN TO PAGE 1 » An Armorican visit – of armies and highwaymen