Introduction
"Le Bourgeois Gentilhomme" by Jean-Baptiste Poquelin (15 Jan. 1622 - 17 Feb. 1673) — better known by his stage name Molière — is a five-act comédie-ballet(1) about a social-climbing middle-class merchant in the mid-to-late seventeenth century. Monsieur Jourdain, seen in his opulent Paris residence, aspires to join the aristocracy by ordering splendid new clothes, engaging in such aristocratic pastimes as fencing and dancing, and learning the language of the noble class.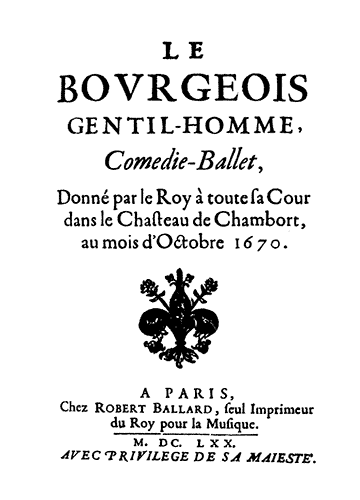 Original program cover for the production of 'Le
Bourgeois Gentilhomme' staged by Molière's acting
troupe at Château de Chambord in October 1670.
(click on image to enlarge)
In the process, he manages to make a complete fool of himself, much to the dismay of his intelligent wife. At the end, he is hoodwinked into believing that his daughter Lucile will marry into Turkish royalty, in an elaborate and ridiculous ceremony staged by the daughter's middle-class suitor in cahoots with M. Jourdain's valet and Madame Jourdain.
Background
Molière's work is an example of neoclassical comedy, a genre in which "contemporary society became one of the central concerns of the comic dramatist."(2) Molière was a master in this genre, as he was thoroughly familiar with French society of the time, and had been trained in the theatre long before becoming a playwright.
Contemporary writings reported that King Louis XIV commissioned the play in 1670 on short notice, to be performed during his fall hunting sojourn in the Loire Valley. Louis had felt insulted during a visit by Suleiman Aga(3), an envoy of the Ottoman Empire, who boasted of the magnificence of the Turkish court compared to that of France. The King therefore requested that certain plot elements be incorporated into Molière's production, in particular to lampoon Turkish ceremonies.(4)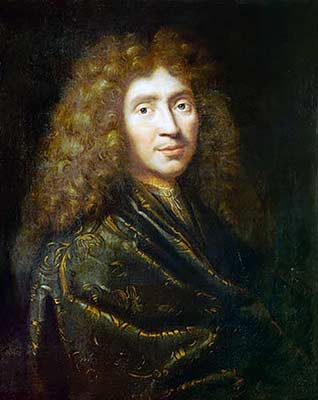 Portrait of Jean-Baptiste Poquelin, a.k.a.
Molière – French actor, director, playwright.
(click on image to enlarge)
Though the date it was written is unclear, the play was first presented at Château de Chambord (department of Loir-et-Cher, France) on 14 October 1670, before moving to the Théâtre du Palais-Royal in Paris on 23 November 1670. Modern performances are produced at La Comédie-Française(5) in the Salle Richelieu (part of the Palais-Royal complex), and at the Théâtre des Bouffes du Nord(6), as well as dozens of venues throughout France and worldwide.
The production's musical score, consisting of eleven pieces, was written by the Italian-born French composer Jean-Baptiste Lully (a.k.a. Giovanni Battista Lulli; 28 Nov. 1632 - 22 Mar. 1687), who served much of his life as court composer for Louis XIV. Lully has been acknowledged as a master of French baroque music.
Choreography was arranged by Pierre Beauchamp (a.k.a. Charles-Louis Beauchamp; 30 Oct. 1631 - Feb. 1705), who worked for Molière's acting company (the Troupe du Roy) from 1664 to 1673. Beauchamp débuted at the court of King Louis XIV in 1648, at age 12. He later became ballet master at the Académie Royale de Musique, and in 1671 was appointed director of the Académie Royale de Danse.
The English playwright Edward Ravenscroft imitated (one might say pilfered, or plagiarized) Molière's work by publishing a play called "Mamamouchi; or the Citizen turned Gentleman" in 1671 (Dorset Garden), a year after Le Bourgeois Gentilhomme's release in France.(7,8)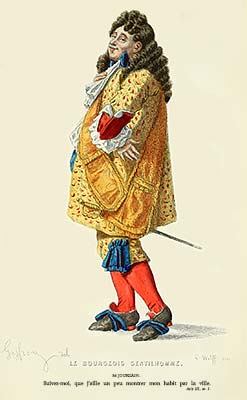 Color etching of the lead character
M. Jourdain dressed in gaudy court
clothing, complete with wig and sword.
(click on image to enlarge)
The play's title is meant to be an oxymoron. In Molière's time, a gentleman was understood to be from the noble class ("a man of gentle birth"(9)), thus there could be no such thing as a 'bourgeois gentleman'.
In its original performance, Molière played the lead role of M. Jourdain, while his real-life wife (Armande Béjart, 21 years his junior) played the role of Lucile, M. Jourdain's daughter. The play's musical composer, Jean-Baptiste Lully, "personally undertook the role of the Mufti in the Turkish ceremony."(9)
Storyline
The play's entire story takes place in 17th-century Paris, France, in the Jourdain residence.
During an overture of several minutes by the pit orchestra, the curtain opens (point of attack) to reveal the Music Master's pupil, alone at a desk, in the process of composing a score. As the overture draws to a close, one instrument continues playing as the pupil begins to sing. A few moments later, he is joined by the Music Master, Dancing Master, and several dancers. After the Music Master reviews his score approvingly, the pupil exits.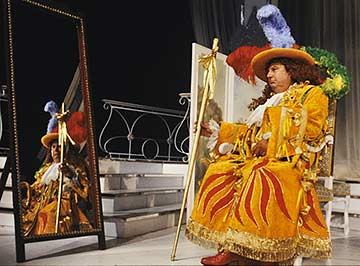 M. Jourdain admires himself in the mirror, during
a 1981 production by the itinerant theatrical
troupe Tréteaux de France, at Meudon.
(click on image to enlarge)
The first scene functions as an exposition, in which the audience learns what the instructors feel about Monsieur Jourdain. The Music Master is grateful to have Jourdain as a student because he pays well, while the Dancing Master feels that Jourdain is incapable of truly appreciating his work.
While they discuss their relationship with Jourdain and his lack of taste, it becomes clear that the instructors themselves are charlatans whose very jobs depend on Jourdain's sheer ignorance.
Enter Monsieur Jourdain dressed in a gaudy striped dressing gown and nightcap, followed by two of his lackeys. He asks the Masters to show him their "little trifle", a performance of song and dance, while he awaits the delivery of a fancy new outfit from his tailor.
Through the first two acts, we witness M. Jourdain taking lessons from a variety of tutors, each of whom must dumb down their instruction to match Jourdain's total ignorance. Yet, with each new "revelation" of knowledge, trivial though it may be, Jourdain expresses unbridled amazement at the wonderful things he's learned, and hastens to show off his new-found expertise to Mme Jourdain and Nicole, their maid.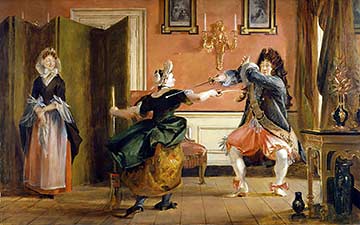 In demonstrating his new fencing 'skills' to his maidservant
Nicole, M. Jourdain is embarrassed to be struck several
times by her foil. His wife looks on in amusement.
(click on image to enlarge)
MONSIEUR JOURDAIN: Goodness! I have been speaking prose for over forty years without being aware of it, and I am much obliged to you for having taught me that.(10a)
Meanwhile, M. Jourdain's daughter Lucile is in love with Cléonte, a respectable and honest young man, whom she hopes to marry. Her father interviews Cléonte and asks him if he's a gentleman. Aware that it would be dishonest to claim such social status, Cléonte admits he is not.
When M. Jourdain insists that his daughter must only marry into a noble family, his wife protests:
MADAME JOURDAIN: As for me, it's something to which I'll never agree. Marriages above one's station always run into problems. I have absolutely no wish for a son-in-law who will quarrel with my daughter because of her parents' station in life, and I don't want her to have children who will be ashamed to call me their grandmother.(10b)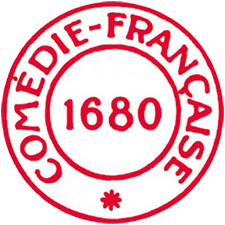 Covielle, Cléonte's lackey, devises a plan to circumvent M. Jourdain's stubborn pride. He shows up at the Jourdain house disguised as an old man dressed in oriental costume. He manages to convince Jourdain that he was a good friend of his father's, and that he has recently returned from extended world travels.
To Jourdain's great astonishment and delight, Covielle claims that M. Jourdain's father was a gentleman rather than a bourgeois merchant — implying that Jourdain was born a gentleman as well. The pretense is patently false, of course, but Jourdain is gullible and believes the fabrication.
After telling Jourdain that a Turkish Sultan is visiting Paris, Covielle persuades Jourdain that the Sultan's son wishes to marry Lucile, and that Jourdain himself stands to be honored with the title of Mamamouchi — a position of high rank comparable to that of a paladin.
To embellish his story, Covielle pretends to teach Jourdain some purportedly Arabian phrases, which are in fact pure gibberish.
COVIELLE: The son of the Turkish Sultan, your son-in-law. As I went to see him, and as I understand his language perfectly, he spoke with me; and, after some other talk, he said to me, "Acciam croc soler ouch alla moustaph gidelum amanahem varahini oussere carbulath," that is to say, "Haven't you seen a beautiful young person who is the daughter of Monsieur Jourdain, a Parisian gentleman?"(10c)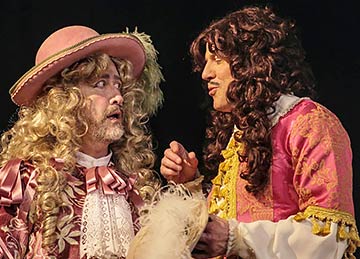 The economically challenged Count Dorante flatters
M. Jourdain in order to fleece him out of his money.
Production at La Manoque (theatre), Tonneins, France.
(click on image to enlarge)
Covielle expands on his "lesson" to say that "marababa sahem" means "Ah, how I love her!"; and that "Cacaracamouchen" means "My dear heart". M. Jourdain's reaction is to exclaim, "What a wonderful language Turkish is!"
When Covielle explains that the Sultan's son will be arriving shortly to perform the ceremony, Jourdain counters by saying that "my daughter is a stubborn girl who has got into her head a certain Cléonte, and she swears she'll marry no one but him." Covielle reassures Jourdain that — quite coincidentally — the Sultan's son looks just like Cléonte, and that "the love she has for one of them can easily be transferred to the other."(10d)
During a lavish and ridiculous ceremony concocted by Mme Jourdain, Covielle, and Cléonte, M. Jourdain is tricked into believing that his daughter is marrying into Turkish royalty and that he has been the recipient of the noble title Mamamouchi. In fact, it is Cléonte who is disguised as the Sultan's son.
While the charade is ultimately revealed and M. Jourdain is painfully reminded of his true station in life, la bourgeoisie does manage to have the last laugh — about a century later (thus unbeknownst to Molière or his troupe) — when the French Revolution topples the class system permanently.
Conclusion
Molière's play is a satire of France's class system in the 17th century. When France was a monarchy, the aristocracy (or nobility) were known as the Second Estate; middle- and working-class citizens comprised the Third Estate, which had little social prestige and no political power. (The King, an absolute monarch quite dissimilar to modern European monarchies like the U.K., was the First Estate.)
While wealthy middle-class merchants could enjoy a relatively comfortable existence, it was not possible to break the "glass ceiling" into the ranks of nobility, the latter being a hereditary class.
The play's protagonist, Monsieur Jourdain, is a well-to-do cloth merchant intent on changing the status quo and becoming a 'noble' in his own right — "the original culture vulture", according to reviewer Elisabeth Vincentelli of the New York Times.(11) He thinks he can do so by donning the accoutrements of nobility — ostentatious clothing, powdered wigs, platform shoes, and the like. He also engages the services of tutors to learn the refinements of nobility — including polite language, dancing, fencing … — but his antics only make him a buffoon and a laughing stock to his embarassed relatives.
After Louis and his court had watched the entertainment of the play at its first unveiling, the King kept Molière hanging in suspense for several days without a word about his reaction to the piece. Finally, Louis did express his extreme pleasure with the production — to Molière's great relief and satisfaction.
Footnotes
(1) comédie-ballet: a hybrid theatrical genre established by Molière and Lully, which combines a spoken play with sung and danced interludes (fr. intermèdes) and act closings.
(3) Suleiman Aga, a.k.a. Soleiman Agha in France, reportedly "refused to bow to Louis XIV, who immediately banished him to Paris, away from Versailles." (Bernstein)
(5) La Comédie-Française was established at Théâtre de l'Odéon in 1689. From 1770 to 1782, it was housed at the royal palace of the Tuileries (destroyed during the Paris Commune in 1871). Since 1799, the troupe has performed at its present location in the Salle Richelieu at the Palais-Royal. Modified and enlarged in the 1800s, it was rebuilt in 1900 after a severe fire.
(6) The Bouffes du Nord is a theater at 37 bis, boulevard de la Chapelle in the 10th arrondissement of Paris, located near the Gare du Nord. First opened in 1876, it has been listed since 1993 as a monument historique by the French Ministry of Culture. Artistic directors are Olivier Mantéi and Olivier Poubelle.
Author, editor: Ian C. Mills © 2018- – All Rights Reserved.
Sources: Applebaum, Stanley. "Tartuffe and The Bourgeois Gentleman, A Dual-Language Book", 1998. (1)(4)(9) Introduction, pp. x-xi, (10) (a) pg. 231, (b) pg. 307, (c) pg. 339, (d) pg. 343. Dover Publications, Inc., Mineola, New York. ISBN 9780486404387.
(2) Calandra, Denis M., Dept. of Theater, Univ. of South Florida; and Roberts, James L., Dept. of English, Univ. of Nebraska. "Tartuffe, The Misanthrope, & The Bourgeois Gentleman", pg. 7. 1967, 1994. Cliffs Notes, Inc., Lincoln, Nebraska.
(3) Bernstein, William J. "A Splendid Exchange: How Trade Shaped the World" (illustrated), pg. 247. 2008. Atlantic Monthly Press. ISBN 9780871139795.
(7) "The Works of Molière", pg. 12, 1671. George Barrie & Son, Philadelphia; and Chez Barrie Frères, Éditeurs, Rue Scribe, Paris 19.
(8) Dickens, Charles. "All the Year Round – A Weekly Journal", pg. 295. Volumes 21-22, from July 6 to Dec. 14, 1878, including No. 501 to No. 524. London – Published at No. 26, Wellington Street; and by Messrs. Chapman & Hall, 193, Piccadilly.
(11) Vincentelli, Elisabeth. "Review: Rich, Crude and Craving Acceptance in 17th-Century France". 21 July 2016, retrieved 24 Sept. 2018. New York Times web site, Theatre section.
Relevant publications: [coming soon]
Images: "Website header for the production of Le Bourgeois Gentilhomme by Compagnie Michel B. at Théâtre Espace Marais, Paris", artist unknown, from Compagnie Michel B. "Original program cover for the production of Le Bourgeois Gentilhomme staged by Molière's acting troupe at Château de Chambord in October 1670", by Robert Ballard, printer for the King (Louis XIV) of France, from Bibliothèque nationale de France. "Portrait of Jean-Baptiste Poquelin (nom de plume, Molière) – French actor, director, playwright", artist unknown, from Pinterest. "Château de Chambord and its reflection at dusk", photographer: Émilie Merlet, from Lycée de l'Abbaye. "A color etching of the lead character M. Jourdain dressed in full royal court clothing, complete with wig and sword, from the play Le Bourgeois Gentilhomme by Molière", artist: L. Wolff, from Informations et documents. "M. Jourdain admires himself in the mirror, during a 1981 production by Tréteaux de France", photographer: Daniel Cande (1981), mise-en-scène by Jean-Louis Martin-Barbaz, from Bibliothèque nationale de France. "Mme Jourdain is amused as Nicole embarasses her husband in fencing, striking a blow (touche)", artist: Charles Robert Leslie, ca. 1841 (painted; oil on canvas), from théâtre-documentation.com (black & white) and Victoria and Albert Museum (V&A), Cromwell Road, London SW7 2RL – The Edwin and Susan Davies Galleries, location: Room 82, case East Wall (color). "The old Comédie-Française logo, before its modernization in 2015", artist unknown, from Wikimedia Commons. "The Count Dorante flatters M. Jourdain in order to fleece him out of his money", photographer unknown, from Sortir47, a French entertainment e-zine for department 47 (Lot-et-Garonne, province of Aquitaine). — All Rights Reserved.
Related videos
First video: Le Bourgeois Gentilhomme. A full-length performance of the 1670 French version, including all musical and dance interludes (fr. intermèdes), produced in Nov. 2004 by Arte France for French television; directed by Martin Fraudreau. (3:30:25)
Short link to this page: https://goo.gl/qREUhr

Playwright Biographies

Molière Links
'Le Bourgeois Gentilhomme' – Full-length Feature
An excellent full-length performance of the 1670 French version, including all musical and dance interludes, was produced in Nov. 2004 by Arte France for French television; directed by Martin Fraudreau, run-time: 3:30:25. It can be viewed in its entirety on YouTube.
'Le Bourgeois Gentilhomme' – 1958 French Film
The Comédie-Française released a movie adaptation of this famous play in November 1958, starring Louis Seigner as Monsieur Jourdain. Internet Movie Database (IMDB).
'Le Bourgeois Gentilhomme' – Musical Selections
Listen to (and download, if you wish) all 11 pieces of music composed by Jean-Baptiste Lully for Le Bourgeois Gentilhomme, performed in Nov. 2007 by the Advent Chamber Orchestra (Roxana Pavel Goldstein, Conductor), and released to the public domain.
'Le Bourgeois Gentilhomme' – 1908 Script
This book presents the play in French, with an insightful introduction and wonderful notes in English by editor F.M. Warren. Available as a free download in various formats — including Kindle, Epub (Adobe Digital Editions), PDF, and text. Digitized by Google from the library of Harvard University. Also available: 1899 edition.
The Bourgeois Gentleman – Audiobook
Librivox offers a free audiobook of The Bourgeois Gentleman which can be downloaded in mp3 format (5 files) or listened to online. Translated into English by Philip Dwight Jones, the recording features an international cast of 24 players reading their parts. (2:05:24)
The Would-Be Gentleman – Script
A script of The Would-Be Gentleman (in English) is available for free download from the Troupe des Anciens de l'Université de Toronto ("The Alumni Troupe of the University of Toronto").

Theatrical, Opera & Ballet Links
Artotal
A multi-purpose database of arts organizations and venues, including dance troupes, theatrical companies, music professionals, architectural associations, cinematic events, and much more.
Association de Bibliophiles Universels (ABU)
Thanks to the devotion and countless hours of transcription by dedicated volunteers since 1993, the unabridged versions of numerous works (in the public domain) from many dozens of French authors and playwrights may now be viewed online. These masterpieces are offered in several formats: full-length text files, or manageable chunks of HTML which won't choke your dial-up Internet connection. E-mail: abu@cnam.fr
Calendar of Events / Directory of French Theatres
Believe it or not, Paris has nearly 130 different theatres offering French and foreign first productions; hundreds more may be found throughout the provinces. This comprehensive database documents nearly 500 theatrical venues, and provides a current calendar of events for every region of France.
Créations et Ressources Internationales de la Scène (CRIS)
An extensive resource devoted solely to contemporary playwrights and theatrical works (in French only).
Glossary of Dramatic Terminology
An exhaustive compilation begun in 1995 by André G. Bourassa (professor at l'Université de Québec - Montréal), and by Barry Russell (Visiting Fellow of the University of Oxford - Brookes), this resource is an invaluable aid to studying any dramatic works. The site also offers an extensive chronology of theatre, dating back to Egyptian, Greek, and Roman antiquity, in addition to covering the French Renaissance.
Institut International de la Marionnette
Founded in 1981 under the auspices of the Union Internationale de la Marionnette (UNIMA). Address: 7, place Winston Churchill, 08000 Charleville-Mézières (Département des Ardennes, Champagne-Ardenne) ; Phone: 03.24.33.72.50 ; E-mail: institut@marionnette.com (Visitor note: view alternate web site here.)
ladanse.com
A directory of ballet and modern dance venues, companies, etc. throughout France and worldwide. E-mail: info@ladanse.com
Le Kiosque Théâtre
Three locations in Paris offer half-price tickets to numerous theatrical performances on the same day of the show.
Manuscripts of La Comédie-Française
In cooperation with the British Academy and the UK Higher Education Funding Councils (HEFCE), Oxford Brookes University hosts the web site "Théâtre de la foire à Paris", with hundreds of documents pertaining to the history of French theatre, including archives of La Comédie-Française.
Les Molières
Created in 1987, these awards highlight the best actors/actresses, stage productions, costumes – and more – for performances of Molière plays throughout France.
Mouvement (revue théâtrale)
This Flash-intensive site (not for the meek of browser!) offers a visually unique presentation on theatrical performances and festivals. However, at this writing, it was not clear whether the dates shown for various events are for the current year – since this reviewer could not locate that data in most listings.
Passion Theatre
More than simply providing a listing of theatrical events throughout France, this site's particular benefit derives from its summaries of the plays themselves, plus spectator reviews of each company's performance, comments from the actors, and press clippings.
Rare Books Exhibition - French Theatre
Richard Overell at Monash University in Australia maintains this page – and offers a catalogue – on rare French theatrical manuscripts.
Regard en Coulisse (e-zine)
An e-zine which presents listings and news of all musical theatre throughout France, including reviews of performers, up-and-coming talent to watch, a forum for debate, and a corner for professionals to view casting announcements and auditions.
La Scène
A trade journal targeted specifically to theatrical professionals, stage managers and owners, festival organizers, circus troupes, et al.
LeSpectacle.com
Excellent database of theatrical companies and venues, broken down by individual departments in both France and overseas territories.
Syndicat National des Entreprises Artistiques et Culturelles (SYNDEAC)
This comprehensive resource is a clearinghouse of all information regarding arts organizations and companies throughout France, including technical, financial, legislative, and employment data. A searchable database can locate venues by category in any department. Address: 8, rue Blanche, 75009 Paris ; Phone: 01.44.53.72.10 ; E-mail: contact@syndeac.org
Le Théâtre Français
Sponsored by the Ministère des Affaires Etrangères (Ministry of Foreign Affairs), this site explores the origins and meaning of French dramatic arts. Listings of publishers, libraries, academic bibliographies, and various documentary sources.
Théâtre On Line
Focusing primarily on Paris venues (though offering a number of provincial listings, as well), Théâtre On Line provides both event calendars and excellent in-depth historical overviews for many theatrical companies who may not yet possess their own web sites.
Theatrical Festivals in France
Consult this calendar of annual theatrical and dance festivals throughout France, featuring every genre of performances in a number of different languages – including Breton, English, French, Gaelic, and more.
Voltaire's Little Theatre
Built in 1735 by the playwright in the attic of his private residence, Voltaire's Little Theatre at the Château Cirey is one of the oldest stages in France. Its special historic value as one of the few remaining examples of early French theatres was preserved by loving restoration in 1999. Address: Château de Cirey, 52110 Cirey-sur-Blaise (Département de la Haute-Marne, Champagne-Ardenne) ; Guided tours: 2:30 to 6:30 p.m. – every day July to September 15, plus Sundays and holidays in May and June.
Webthea.com
User forums, candid interviews, calendar of events, professional databases, critical reviews in the press, and comprehensive links to all aspects of the dramatic arts in France.
Worldwide Opera Database
A comprehesive database of all known opera performances worldwide, including archives of over 48,000 shows dating back to 1999. Permits searches by title, composer, city or region, and performance dates, with customizable sort order.

Nominate A Site — Submit An Article!
Theatre, Ballet & Opera of France
Do you know about a great theatre, ballet, or opera site we should list here? If so, please submit it!
Are you an author, educator, student or traveler who would like to write an article for the enjoyment of our francophile community? Please download our author's guidelines (48K PDF). Thank you!