Introduction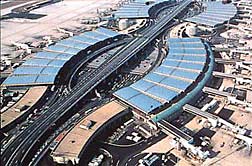 Aérogare (Terminal) 2 at CDG
Paris is principally served by two international airports: Roissy/Charles de Gaulle (CDG) to the north of the city, and Orly (ORY) to the south. Together, these airports welcome 75 million passengers annually, with flights to 500 cities in 132 countries. Most international flights arrive at Roissy-CDG, while domestic French flights generally arrive at Orly.
Both CDG and Orly offer extensive airport facilities – including duty-free shops, car rentals, restaurants, hotels, post offices, and ground transport into the city center.
A third international airport, Beauvais-Tillé (BVA), has gained increasing popularity with some European travelers in recent years, handling over 2.9 million passengers during 2010. Located 84 km/52 miles from Paris in the department of Oise (province of Picardy), Beauvais primarily serves as a hub for budget airlines hailing from Ireland, the U.K., and a few other western European countries.
The smallest airport near Paris – Le Bourget (LBG) – has been closed to international traffic since 1977, and to regional traffic since 1980. Today, it is only used for general aviation (business jets) as well as air shows. It is perhaps most famous as the landing site for Charles Lindbergh's historic solo transatlantic crossing in 1927, and was the only airport serving Paris until Orly was built in 1932.
Charles de Gaulle Airport
Roissy-Charles de Gaulle Airport (CDG), which began service on 8 March 1974, is located near Roissy-en-France. The airport complex actually straddles the junction of three departments: Val d'Oise (95), Seine-et-Marne (77), and Seine-Saint-Denis (93) in Ile-de-France (see map).
Airport terminals
The airport has three main terminals (fr. Aérogares):
Terminal 1

The oldest terminal (opened in 1974) was built with an avant-garde design which is maintained today, even though interior sections of the structure have been renovated and modernized. It consists of a single main building for check-in and baggage claim, with 7 satellites for arrivals and departures. Each satellite can handle about 5 aircraft at any given time. Underground walkways with moving sidewalks connect the satellites to the main building.

Terminal 2

Terminal 2 was originally built exclusively for Air France flights, but has since been expanded significantly and now also hosts other airlines. It consists of multiple terminals (or halls) joined together by ground-level or below-ground passageways. The seven terminals consist of 2A, 2B, 2C, 2D, 2E, 2F and the separate 2G (which opened March 2009).

Terminal 3

This terminal – formerly called T9 – hosts charter and low-cost airlines. Consisting of a single hall, it is located 1 km/0.62 mi. from Terminal 1, but the walking path is 3 km/1.9 mi. long. The RER and CDG-VAL trains are at a distance of 300 m/980 ft. on foot.
Navigating between terminals
Passengers arriving on different flights at separate terminals who wish to meet each other, and those who will be taking an RER-B commuter express to Paris or a TGV train to other destinations in France, may board the free 24-hour VAL (Véhicule Automatique Léger) shuttle train which makes frequent runs between terminals 1, 2, 3 and the rail stations – plus two remote car parks – within 8 minutes.
While it is possible to walk the length of Terminal 2 from Halls A&B through E&F (using the moving sidewalks in some places), the distance is significant and can take more than 15 minutes; 2G is located 2.5 km/1.6 mi. away from terminals 2A-2F. Depending on your stamina (and luggage), you may find it more practical to take one of the free TransRoissy shuttle buses:
Baggage handling
Upon approaching the baggage claim areas, be sure to avail yourself of the free luggage carts – which are generally parked next to the baggage carrousels or conveyor belts. They will save you considerable effort in navigating to the exits! Note: as a precaution against terrorist incidents, French airports have eliminated all short-term baggage lockers.
Seeking assistance
Many airport staff can speak English; they are friendly when approached in a courteous manner (say "Bonjour, Madame/Monsieur!" first), and will give advice when needed. In each terminal there is a clearly marked Information desk where personnel can assist travelers with any questions or directions, and where one can pick up bus or train schedules.
Transport to and from Roissy-CDG
Transportation between CDG and Paris – or to Orly Airport for connecting flights throughout Europe – is possible by car, taxi, bus, RER (train), privately-operated shuttles, and limousines. A few of these options will also offer transport to certain suburbs and/or Disneyland area hotels. Your own choices may be influenced not only by your budget, but also by how much luggage you are carrying and your ultimate destination.
The distance from CDG to central Paris (75001) is roughly 28 km or 17 miles (consult travel times for each arrondissement, or neighborhood). From CDG to Orly is approximately 41 km (26 miles), and CDG to Disneyland is about 40 km (25 miles).
Limousines
Limousines may be frequently found near each exit from the terminals, and though the chauffeurs may try very hard to seduce you with their charm, you can expect to pay €100-200 to ride in style.
A few words of caution are in order: Finding a reputable, licensed limo at the curbside is not guaranteed, as there are a number of "gypsy" drivers who operate at the airports without authorization or proper insurance. Also be aware that French transportation laws prohibit licensed operators from soliciting you to use their services.
Should you choose this method of transport, be certain that you have agreed to the exact final cost to your destination, before allowing the first bag to be loaded. Preferably, you would have reserved your ride in advance, through a limousine company's web site or by phone, and received an e-mail or faxed confirmation of your fare.
Taxis
Due to their unpredictable cost, we recommend that you avoid taking a taxi. Since the fare depends on traffic, taxis can become rather expensive – particularly during the morning rush hour, when the A1 freeway becomes a congested nightmare. (Most overnight flights from North America tend to arrive during this timeframe.)
A taxi ride into Paris can take between 40 minutes to 2 hours, costing between €34 (minimum) and €60 or more – depending on the arrondissement. The CDG airport's web site (www.adp.fr) estimates around €50 during daytime hours, plus a surcharge for evenings after 7 p.m., Sundays and/or holidays.
In addition to the metered fare, there is a supplement of €1 for each piece of luggage after the first (weighing in excess of 5kg and placed in the luggage compartment), as well as €3 for a fourth passenger. Families traveling with infants should keep in mind that taxis will not have a child seat available.
When you phone for a taxi to return from Paris back to the airport, the meter starts running from the point where the taxi was dispatched – which could be anywhere in the city. Consequently, the fare showing on the meter may already be €7-10 by the time you board the vehicle at your hotel.
It is your responsibility to have the correct amount of money (in Euros) for the fare. The use of credit cards in Parisian taxis is rare, and personal checks are usually not accepted. It is also customary to tip the driver about 10% of the fare, if service was good and the cab is clean.
Shared and Private Shuttle Vans
An affordable alternative to the high cost of taxis and other private transportation, various airport shuttle companies offer air-conditioned, non-smoking, 7- and 8-passenger minivans with comfortable seating and ample cargo space.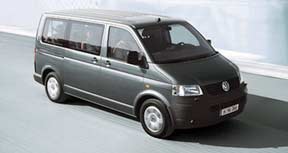 Volkswagen minivan – shared or private shuttle.
Also available, for private transfers only:
9-15 pax minibus & 16-49 pax coach.
(click to see other views)
Courteous English-speaking drivers will assist you with your luggage, then drive you safely from any CDG terminal directly to your hotel or other address in Paris. Some companies also provide transport to outlying suburbs and the Disneyland-Paris Resort area.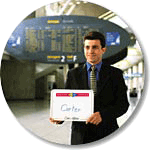 While Roissybus and Air France shuttle fares may be somewhat cheaper, they do oblige you to walk, navigate the Métro with your luggage, or take a taxi from their limited drop-off points in Paris to your hotel, thus increasing your final cost and time to your destination. By contrast, the minivan shuttles provide "door-to-door" service, combining convenience and the shortest travel time at reasonable rates.
Ideal for couples, small groups, or families with children (some operators offer child seats for added safety) – these shuttles plan their passenger loads so that no more than 3 stops are made on any one trip into the city (private shuttles are also available). Advance reservations are required. You will be asked to provide your arrival time, flight number, and airline; the operator monitors your flight's arrival status by Internet, assuring that a driver will be there to greet you – even if your flight is delayed.
Roissy Bus
The regional public transportation authority, RATP (Régie Autonome des Transports Parisiens), offers a special bus service between Roissy-CDG and 9, rue Scribe (9th arrondissement) near the famous Opéra Garnier, in the heart of Paris. Running between 6:00 a.m. - 11:00 p.m., the Roissybus departs every 15 minutes (20 minutes after 8 p.m., 30 minutes after 10 p.m.), and the journey lasts approximately 45 to 60 minutes. The bus stops at the following airport terminals:
Aérogare/Terminal 1
Aérogare/Terminal Halls 2A, 2B, 2C, 2D, 2E, 2F
Aérogare/Terminal 3 (formerly T9)
The one-way Roissybus fare is €10. Other valid fares – when purchased for Zones 1-5 – include the Paris Visite pass (1, 2, 3 or 5 days), the weekly or monthly Navigo Découverte, and the yearly Imagine R student pass (valid on weekdays only).
Paris City Bus
The bus lines 350 (terminus Gare de l'Est, 10th arrondissement) and 351 (terminus Nation, 11th & 12th arrondissements) serve the airport's terminals 1 and 2. Both lines run 7 days a week, and can take up to 2 hours to reach the terminus.
Bus 350 starts running around 6:00 a.m. (every 17-21 minutes on weekdays, roughly every half-hour on weekends); the last bus leaves Roissy-CDG at 10:30 p.m. (see PDF route map)
Bus 351 starts running around 7:00 a.m. (roughly every half-hour on weekdays, weekends, and holidays); the last bus leaves Roissy-CDG at 9:37 p.m. (see PDF route map)
Though the travel times for these buses exceed those of the other public transportation options (due to numerous stops made between Roissy and the terminus), they are by far the most economical choice. Furthermore, they afford a leisurely and fairly pleasant view of Paris neighborhoods passing along the route.
If your Paris accommodations are located in the 18th arrondissement (Montmartre), or the 9th/10th near the Gare du Nord or Gare de l'Est, then Bus #350 will drop you closest to your destination. Likewise, if you will be staying in the 20th close to Porte de Montreuil or in the 11th/12th near Place de la Nation and the Cimetière du Père Lachaise, then Bus #351 is your best bet.
The one-way 350 or 351 bus fare from CDG to Paris is €5.10 (€5.70 when purchased on-board) – or three (3) t+ tickets (not transferable to another bus or the métro).
Other valid fares – when purchased for Zones 1-5 – include the Paris Visite pass (1, 2, 3 or 5 days), the weekly or monthly Navigo Découverte, and the yearly Imagine R student pass (weekdays only).
Noctilien (Night Bus)
The night-time bus lines N140 and N143 (each terminating at Gare de l'Est, 10th arrondissement) serve airport terminals 1, 2, and 3.
Both lines run 7 days a week. N140, with 18 stops, takes about 82 minutes to reach the terminus; N143, an "express" with only 9 stops, takes about 55 minutes. From the Gare de l'Est, one can connect with 16 other Noctilien lines, plus the métro (lines 4, 5 & 7, after 5:30 a.m.) and SNCF trains.
Bus N140 departs from Terminal 3 at 1:00 a.m., 2:00 a.m., and 3:00 a.m. (the last 4:00 a.m. departure does not go to Paris; it ends at Gare d'Aulnay-sous-Bois), stopping at Terminals 1 and 2 within 3 and 10 minutes thereafter (see PDF route map)
Bus N143 departs from Terminal 3 at 12:02 a.m. and at half-hour intervals until 4:32 a.m., stopping at Terminals 1 and 2 within 4 and 12 minutes thereafter (see PDF route map)
The one-way N140 or N143 bus fare from CDG to Paris is €5.10 (€5.70 when purchased on-board) – or three (3) t+ tickets (not transferable to another bus or the métro).
Other valid fares – when purchased for Zones 1-5 – include the Paris Visite pass (1, 2, 3 or 5 days), the one-day Mobilis, the weekly or monthly Navigo Découverte, and the yearly Imagine R student pass.
RER-B3 (express commuter train)
Roissy-CDG is served by the RER (Réseau express régional) rail line, part of the Paris métro system, toward the city and its southern suburbs. These express trains with limited stops run from 5 a.m. to 12 midnight, departing every 10-15 minutes on weekdays – somewhat less frequently on weekends and holidays.
There are two RER stations within the airport complex, both of which fall within Zone 5 of the RATP's transit system (zones determine fares; the city of Paris falls within zones 1-2). A station situated midway between the 2C/2D and 2E/2F terminal buildings (see map) is the line B3 terminus ("Aéroport Charles de Gaulle 2 – TGV"); the second station ("Aéroport Charles de Gaulle 1") is situated next to terminal 3.
All the airport's terminals, RER/TGV stations, and remote car parks can be reached by taking the free CDG-VAL, an automated and driverless rail shuttle with five stops.
The B3 train takes about 25 minutes to reach the Gare du Nord railway station (10th arrondissement), 28 minutes to Châtelet–Les Halles (1st arrondissement), and 35 minutes to Denfert-Rochereau (14th arrondissement). There are seven stops within Paris; four of these offer connections (fr. correspondances) to certain métro and other RER lines, as follows:
Gare du Nord (métro lines 2, 4, & 5; RER lines D & E)
Châtelet–Les Halles (métro lines 1, 4, 7, 11, & 14; RER lines A & D)
St-Michel Notre-Dame (métro lines 4 & 10; RER line C)
Luxembourg
Port-Royal
Denfert-Rochereau (métro lines 4 & 6)
Cité-Universitaire
The one-way RER fare is €9.10 for adults, and €6.40 for children (ages 4-10). Other valid fares – when purchased for Zones 1-5 – include the Paris Visite pass (1, 2, 3 or 5 days), the weekly or monthly Navigo Découverte, and the yearly Imagine R student pass (weekdays only).
A note of caution – Senior citizens, travelers with heavy luggage, disabled persons, or families with small children in tow are forewarned that this method of transportation may require considerable effort, when navigating from Roissy-CDG to one's hotel:
Transfers from subterranean RER platforms to connecting métro lines in Paris can involve several steep sets of stairs and some very long walks, particularly at Gare du Nord and the gargantuan Châtelet–Les Halles complex.
Since RER-B does not connect directly with five of the métro lines (3, 8, 9, 12, 13), a second transfer is required to reach hotels situated near those lines.
TGV Train Station
Charles de Gaulle airport has its own TGV – Train à Grande Vitesse, 'high-speed train' – station that is part of the LGV Interconnexion Est rail line, offering connections to various cities in France and throughout Europe. The platform is located in the same station as the RER-B3 terminus, between airport terminals 2C/2D and 2E/2F (see map).
For TGV schedules and fares, visit the SNCF web site.
What About Those Famous French Strikes?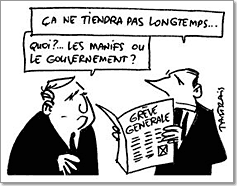 French political cartoon, translation:
(Newspaper headline: "General Strike")
"It won't last long."
"What, the demonstrations,
or the government?"
© Erik Tartrais, artist
The French are particularly well-known for their frequent labor strikes, known as les grèves, which can cripple public transportation for several days at a time. They occur at least once (and sometimes more often) every summer, and occasionally during other times of the year. During 2005, for example, transportation stoppages and slowdowns occurred 9-11 March, 1-3 June, and again 3-5 October.
The RATP web site addresses this issue in its FAQ (in French only). The independent web site www.greves.org (in French only) offers helpful news coverage on transportation strikes, often providing their dates in advance, plus details on how specific rail lines will be affected. It is an invaluable resource which can aid in planning one's travel options.
Of course, private transportation operators – such as the shuttle van services, taxis, and limousines – are not affected by such labor strikes. TIP: If you are aware of a strike occurring during your planned visit to Paris, we suggest reserving your transfers on a shuttle van or limousine well in advance, as demand for all private forms of transportation will be high.
Birds and Other Animal Hazards at the Airport
The grassy lands on which the airport is located are notorious for rabbits and hares, which can be seen by airplane passengers at certain times of the day. The airport organizes periodic hunts and captures to keep the population within manageable levels.
Bird strikes are a recognized hazard in the aviation industry. Because thousands of planes are struck by birds each year, aircraft designers and airport officials do all they can to minimize the risk of accidents.
Jean-Luc Briot, an ornithologist with France's Civil Aviation Administration in Paris, says French aviation authorities receive 800 impact reports from pilots annually, of which 10-15% are classified as "serious" – resulting in damage to the aircraft or flight delays.
At Charles de Gaulle Airport, fixed runway speakers are used to scare birds away, according to an ADP spokesman. Airport agents stationed on each runway are equipped with flares and noisemakers that allow them to play the sounds of a bird in distress, thereby frightening other birds. As a result of such prevention measures, Air France has reduced its number of collisions by a third during the past 10 years, says Briot.
Hotels at Charles de Gaulle
As in most cities, the airport's hotels are not the best places to stay overnight. Unless your trip's purpose is just a quick business meeting before jetting off again, we would rather recommend that you stay at a hotel in Paris – assuming you'd like to get a flavor of the city's character and spend less time commuting from your accommodations to the sights worth seeing.
Have a look at our exclusive selection of typically Parisian hotels.
Services at Charles de Gaulle
Lost and found: +33 (0)1 48 62 13 34
Roissy-CDG Airport Information: +33 (0)1 48 62 22 80
Web site: aeroportsdeparis.fr.
If you have other questions regarding public bus or rail transportation (including the Paris métro), you can also call the RATP English Information Center at +33 8 92 68 41 14; the call will cost you €0.34 per minute in France.
Continued (Part 2): Orly Airport
---
Editing, translation, and portions written by Ian C. Mills ©1998- – All Rights Reserved.
Sources: Fodor's Paris, RATP, Aéroports de Paris, France 24 International News, Magic Paris, Paris Digest, Wikipedia .
Images: Roissybus and Orlybus logos, from RATP. Aerial view of Roissy-CDG Aérogare 2, from Air France. Airport diagrams of CDG and Orly, from Aéroports de Paris. N1, N2, and N3 TransRoissy shuttle buses at CDG Terminal 2, from Réseaux Franciliens. Air France shuttle bus, from les cars Air France. Volkswagen Transporter minivan with passengers, from Volkswagen Commercial Vehicles. Platform of the RER station at CDG, by Konishi (photographer), from Flickr. Sign for 350/351 bus stop at CDG, photographer unknown, from Office de Tourisme, 95700 Roissy-en-France. RER-B3 train in the station at Charles de Gaulle Airport, by H. Daniel (photographer), from Wikimedia Commons. Political cartoon: "Grève Générale" © Erik Tartrais (artist). All Rights Reserved.
---