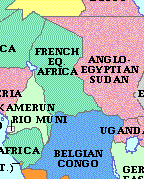 French Equatorial Africa was a former administrative grouping of four French territories in west central Africa. It was first formed in 1910 by the federation of three French imperial colonies — Gabon, Middle Congo, and Ubangi-Shari-Chad — comprising a total area of 969,112 square miles (2,500,000 sq km). Chad was separated from Ubangi-Shari in 1920 to form a fourth colony.
In 1934, French Equatorial Africa was transformed into a unified territory of France, but in 1946 it was re-divided into four separate overseas territories (TOM — territoires d'outre-mer).
The federation ended in 1959 after the territories had chosen — in 1958 — to become self-governing republics of the French Community. Middle Congo was renamed Republic of the Congo, and Ubangi-Shari became the Central African Republic. All four republics attained their independence in 1960.
Chad
Many former French colonies adopted the simple vertical stripes of the French tricolor when they designed their own flags. In 1959 Chad chose blue for the sky, yellow for the sun, and red for progress and unity.
The Republic of Chad is a landlocked state in north central Africa (see map). The largest country of the former French Equatorial Africa, it is bounded on the north by Libya, on the east by Sudan, on the south by the Central African Republic, on the southwest by Cameroon, and on the west by Nigeria and Niger. The capital is N'djamena (formerly Fort-Lamy).
LAND AND PEOPLE
Most of Chad is a large basin bordered by mountains and highlands in the north (where Emi Koussi, the highest point in the country, rises to 3,415 m/11,204 ft), east, and south. A vast inland sea once filled the depression, of which Lake Chad is a remnant. Neolithic rock paintings exist in the northern mountains, and archaeological evidence around the lake and its main tributaries, the Logone and Shari rivers, suggests the existence of a settled civilization as early as the 9th century.
The country has three climatic zones. The north is arid, and vegetation is limited to scattered oases; the south is tropical, with light woodlands and grasslands. In the semiarid middle region — at the latitude of N'djamena — the drier grasslands give way to thornbush. The rainy season lasts from May to October and is somewhat longer in the south, with annual precipitation increasing from 300 to 1,270 mm (12 to 50 in) between the capital and the far south. In the northern Saharan region, rainfall is rare, with fewer than 25 mm (1 in) annually. Temperatures range between 27° and 38° C (80° and 100° F). Animal life is varied. Lake Chad and the Shari and Logone rivers are among the richest sources of fish in Africa.
The many different ethnic groups in Chad include the Sara peoples in the south; the Fulani, Barma, Kanembu, Arabs, and Maba in the middle zone; the nomadic Teda, Daza, and Tubu in the north; and the Kotoko along the rivers. Most of the people in the northern two-thirds of the country, or about half the total population, are Muslims. In the tropical south the population is divided between adherents of Christianity and traditional African religions. Both Arabic and French are official languages, and Sara serves as a trade language.
The population of Chad is overwhelmingly rural with a very low density, particularly in the northern half. The scattered population and the country's sheer size, along with its poverty, have hindered the development of education and medical care. In addition, animosity exists between northerners and southerners as a result of Muslim slave-raiding in the south before the French conquest in the early 20th century. Molding a post-independence national identity has been difficult.
ECONOMIC ACTIVITY
The economy of Chad is based primarily on livestock raising and subsistence agriculture, although the former has periodically been severely damaged by drought in the Sahel region of the north. Farming is concentrated in the south, particularly along the fertile northern edge of Lake Chad. Cotton is the chief commercial crop and leading export; the major subsistence crops include millet, sorghum, and groundnuts. Industry, also concentrated in the south, consists primarily of the processing of cotton and other agricultural products. Natron — a sodium carbonate used as a salt — is mined near Lake Chad. Chad has significant petroleum reserves in the Lake Chad area, and plans to exploit these reserves (including construction of a pipeline to Cameroon) are proceeding despite protests from activists who fear the effects on the local population and environment. There are also deposits of minerals such as tungsten, tin, bauxite, and gold, but political uncertainty has hampered the foreign investment needed to exploit them. The Aozou strip, a desert area in the north inhabited by seminomadic farmers and herders, is thought to be rich in uranium; it was occupied by Libya from 1973 to 1994.
HISTORY AND GOVERNMENT
In the precolonial period, Muslim states controlled the northern and central parts of the country, but the French conquered them between 1897 and 1908. Chad was made part of French Equatorial Africa in 1910 and a separate colony within it in 1920. In World War II, Chad was the first French territory to declare its loyalty to Gen. Charles de Gaulle and the Free French. It became independent in August 1960 under President N'Garta Tombalbaye. In 1975, Tombalbaye died in a coup led by Felix Malloum, who was forced to resign in March 1979. During this period, various factions began competing for power. In November 1979 a coalition government headed by Goukouni Oueddei assumed power. In mid-1982, Oueddei was ousted by former prime minister Hissène Habré.
Both Libya and France repeatedly intervened in the ongoing Chadian conflict. Habré, elected president in December 1989, was overthrown a year later by his former military commander Idriss Déby. A 1993 national conference established a transitional government headed by President Déby. The International Court of Justice awarded the Aozou strip to Chad in February 1994. Libyan troops were then withdrawn from the area, and Libya and Chad signed a treaty of friendship and cooperation. A new multiparty constitution was narrowly approved by Chad's voters in March 1996. It provided for a unitary state with a strong presidency rather than the federal state sought by those in the south. Déby won presidential elections held later that year, becoming Chad's first president to be elected by direct universal suffrage. A multiparty National Assembly was elected in 1997; an indirectly elected Senate was also to be installed. The new government faced the difficult task of promoting national unity and restoring an economy devastated by years of civil war and drought. In 1998, Chad sent troops to the Democratic Republic of Congo to help Congolese president Laurent Kabila put down an antigovernment rebellion there. In May 1999 the government announced that the Chadian forces in Congo were being withdrawn. Later that year Chad and Sudan signed an agreement to cooperate on border security.
In February 2000 former Chadian ruler Hissène Habré was charged with human rights abuses in Senegal, where he had been living in exile. That same month Chad hosted the annual summit of the Community of Sahel Saharan States (COMESSA), an association that had been formed in 1998. At this meeting the 11 member nations agreed not to interfere in each other's internal affairs.
---
Dennis D. Cordell, Assistant Professor of History, Southern Methodist University, Dallas, Tex.
Source: 2001 Grolier Multimedia Encyclopedia, ©2000 Grolier Interactive Inc. — All Rights Reserved.
Bibliography: Mario J. Azevedo and Emmanuel U. Nnadozie, Chad: A Nation in Search of Its Future (1998); Hedwig Bruggeman, Pastoral Associations in Chad (1993); T. Collelo, Chad: A Country Study, 2d ed. (1990); Samuel Decalo, Historical Dictionary of Chad, 3d ed. (1997); M. P. Kelley, State in Disarray (1986); Sam C. Nolutshungu, Limits of Anarchy: Intervention and State Formation in Chad (1996); John L. Wright, Libya, Chad, and the Central Sahara (1989).
---
Appended Material
Information Highlights
| | |
| --- | --- |
| Total Area | (land and inland water) 495,600 square miles (1,284,000 sq km). |
| Boundaries | North, Libya; east, Sudan; south, Central African Republic; southwest, Cameroon; west, Nigeria and Niger. |
| Population | 11,193,452 (July 2013 est.). |
| Capital and Largest City | N'Djamena. |
| Languages | French, Arabic (both official). |
| Major Religions | Islam, indigenous local systems, Roman Catholicism. |
| | |
| --- | --- |
| Chad Links | |
Book A Hotel in Chad
Visitors to Chad will find quality accommodations at Le Méridien Chari in N'Djamena, centrally located and a 5-minute drive from the airport. Visit the Discover France Travel Center, where you can check prices and availability for your travel dates, then book your stay online.
CIA World Factbook: Chad
Extensive statistics on the region's geography, people, government, economy, communications infrastructure, transportation, and military.
Country Commercial Guides: Chad
CCG's are prepared annually by U.S. embassies with the assistance of several U.S. government agencies. This report presents a comprehensive look at Chad's commercial environments, using economic, political and market analysis. (PDF format; requires Acrobat™ Reader, free from Adobe)
Current Time: N'Djamena, Chad
Is this a good time to call someone in Chad? Find out by checking the correct local time in the capital.
Foreign Entry Requirements
The Federal Consumer Information Center offers information on passport and visa requirements for Chad.
Living Languages of Chad
According to the Ethnologue, there are an amazing 132 living languages and dialects spoken in Chad! Despite being one of Chad's two official languages (the other being Arabic), French is spoken by only a few thousand people (in a population of over 7 million). The national literacy rate averages only 11%.
Maps of Chad
Part of the Perry-Castañeda Library Map Collection at The University of Texas in Austin, this site presents a large collection of political, geographic, and other maps of African countries.
Open Directory Project: Chad
The non-profit, human-compiled database provides useful links about Chad, in both English and French.
Tips for Travelers to Subsaharan Africa
Check for current travel warnings, plus information about crime, health concerns (including required immunizations), weather, currency, and more.
| | |
| --- | --- |
| Nominate A Site! | |
French Colonies, Overseas Territories
Do you know about a great site we should list here? It can be devoted to any aspect of historical French colonization (people, places, events), or contemporary locations still administered by France — collectively known as DOM-TOM (for départements/territoires d'outre-mer). Please use our convenient Submission Form to send your suggestions!
Are you an author, educator, student or traveler who would like to write an article for the enjoyment of our francophile community? Please download our author's guidelines (48K PDF). Thank you!