.

Culture, history,
language, travel,
and more!
---
BEST BUYS: EATING in PARIS
---

What gives some travelers pause about visiting Paris is its prices, which are almost as famous as its monuments. This city can be expensive, far more than any U.S. city, even New York. However, it is possible to seek out the places where the locals prefer to go,
"To eat is a necessity; to eat well is an art."

Brillat-Savarin
and to get good, decent meals with enough left over to afford a jazz club or other cultural attractions, even on the strictest budget.

You may be surprised to discover that not all Parisian food is good. In fact, during the last few years standards at budget restaurants appear to have declined greatly. We recommend that you do as the French do, that is to take advantage of the delectable items displayed in the windows of the boulangeries , pâtisseries , charcuteries , crèmeries , and épiceries , or at the street markets, and find a park bench in one of the multitude of beautiful gardens throughout the city to delight in your feast.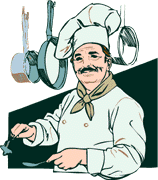 Bring a good knife, a cork-screw, and dining implements (or purchase some paper and plastic ones).
Certainly you'll want to dine in some traditional restaurants, especially during the inclement or chilly days. For that, you'll find that the prix-fixe menu du jour (several courses) or the plat du jour , made from the best buys at the daily market, will be the most economical choices. Most restaurants will post their dishes on a board outdoors, or in the window, for you to peruse before selecting your spot. In many cases, the meal may include a glass or quarter-carafe of house wine (vin de pays or vin ordinaire ); be sure to check before ordering. If you wish to be served a free glass of water with your meal, request une carafe d'eau ; otherwise you will likely be charged for a Perrier or some other bottled water.
Most restaurants in Paris serve lunch between noon and 2:30pm, and dinner from 7 to 10pm. For quick meals at other times, do as the French do: frequent a café for a light one-course meal, such as an omelet, sandwich, soup or salad.
Beware of "touristy" spots in prime locations, however: these are likely to carry a premium price. Note that it's also about 40% less expensive to eat standing at the bar than to be served by a waiter at a table. Buying a tasty sandwich, crêpe or frites from a sidewalk booth is the cheapest alternative. Crêpes are freshly made and filled with your choice of ingredients: cheese, ham, egg (or a combination); chocolate and nuts; apricot jam; or some other treat. During the cold weather, try the delicious roasted chestnuts offered by vendors everywhere.
Despite what you may have learned in high school French or seen in the movies, never ever say "Garçon!" to a waiter. Instead, use "Monsieur, s'il vous plâit!" or "Madame, s'il vous plâit!" When asking for the bill, refer to it as la note (not l'addition ). For other tips on cuisine and dining, refer to our chapter on French Cuisine.
For those travelers too home-sick to bear any protracted stay without their accustomed fast-food fix (for shame!), Paris offers a full complement of the familiar American-style eateries, such as McDonald's and Pizza Hut. Yes, Parisians have also found uniformity of quality and (relatively) quick service appealing, but you'll discover that fast-food prices are higher in Paris than in the U.S.
---
Bibliography: Frommer's 99 Europe From $50 A Day, Ron Boudreau, Editor, Macmillan Travel, A Simon & Schuster Macmillan Company, New York.
---
The following list reflects the best dining values in Paris, according to the many hundreds of reviewers who provided their feedback to the Zagat Survey. The rankings are calculated by dividing the cost of a meal into the combined ratings for food, decor and service.For the sake of space, individual reviews cannot be reproduced here, and only the addresses for the top 20 locations are shown; however, you can consult the Zagat Survey for detailed listings on these and 745 other restaurants.
(Numbers following street addresses signify the arrondissement. Applicable métro/RER stops are enclosed in parentheses.)
1. Cosi, 54, rue de Seine, 6e (Odéon), 01-46-33-35-36
2. Germaine (Chez), 30, rue Pierre Leroux, 7e (Duroc/Vaneau), 01-42-73-28-34
3. Chartier, 7, rue Faubourg Montmartre, 9e (Rue Montmartre), 01-47-70-86-29
4. Lina's, American-style chain of sandwich shops with multiple locations throughout the city
5. Deux Abeilles (Les), 189, rue de l'Université, 7e (Alma Marceau/RER Pont de l'Alma), 01-45-55-64-04
6. Flèche d'Or Café, 102 bis, rue de Bagnolet, 20e (Alexandre Dumas), 01-43-72-04-23
7. Mathusalem (Le), 5 bis, boulevard Exelmans, 16e (Exelmans), 01-42-88-10-73
8. Crêperie de Josselin (La), 67, rue du Montparnasse, 14e (Edgar-Quinet/Montparnasse-Bienvenue), 01-43-20-93-50
9. Caféde l'Industrie, 16, rue St-Sabin, 11e (Bastille/Bréguet Sabin), 01-47-00-13-53
10. Agape (L'), 281, rue Lecourbe, 15e (Boucicaut/Lourmel), 01-45-58-19-29
11. Entrepôt (L'), 7, rue Francis de Pressensé, 14e (Pernety), 01-45-40-60-70
12. Mariage Frères, 30-32 rue du Bourg-Tibourg, 4e (Hôtel-de-Ville), 01-42-72-28-11
13. Dame Tartine, 59, rue de Lyon, 12e (Bastille), 01-44-68-96-95
14. Clown Bar, 114, rue Amelot, 11e (Filles-du-Calvaire), 01-43-55-87-35
15. Camille, 24, rue des Francs-Bourgeois, 3e (St-Paul), 01-42-72-20-50
16. 404 (Le), 69, rue des Gravilliers, 3e (Arts-et-Métiers), 01-42-74-57-81
17. Temps des Cerises (Le), 18, rue de la Butte-aux-Cailles, 13e (Place d'Italie), 01-45-89-69-48
18. Perraudin, 157, rue St-Jacques, 5e (RER Luxembourg), 01-46-33-15 75
19. Lescure, 7, rue de Mondovi, 1er (Concorde), 01-42-60-18-91
20. Polidor, 41, rue Monsieur le Prince, 6e (Luxembourg/Odéon), 01-43-26-95-34
21. Bouillon Racine
22. Biche au Bois
23. Délices d'Aphrodite
24. Angelina
25. Café de la Musique
26. Baracane
27. Jacques Mélac
28. Café Beaubourg
29. Relais de Venise
30. Ay!! Caramba!!
31. Auberge Etchégorry
32. Al Mounia
33. Marais-Cage
34. Pied de Chameau
35. Petit Prince de Paris
36. Viaduc Café
37. Omar
38. Thanksgiving
39. New Nioullaville
40. Alsaco
41. Dos de la Baleine
42. China Club
43. Café Runtz
44. Chieng Mai
45. Allobroges
46. Café Marly
47. Paul
48. China Town Belleville
49. Marianne
50. Bon Accueil

51. Astier
52. Hangar
53. Mansouria
54. Deux Canards
55. Nouveau Village
56. Coco de Mer
57. Ebauchoir
58. DEnise
59. C'Amelot
60. Café du Commerce
61. Rest. du Palais Royal
62. Impatient
63. Chicago Pizza Pie Factory
64. Epi Dupin
65. Café des Lettres
66. Rendez-vous/Camionneurs
67. Driver's
68. Ladurée
69. Chardenoux
70. Brasserie de l'Isle St-Louis
71. Bistro de la Grille
72. Grizzli
73. Ferme de Boulogne
74. Studio
75. Mavrommatis
76. Bistrot d'à Côté Neuilly
77. Juvenile's
78. Square Trousseau
79. Bistro du 17
80. Président
---

---

Though visiting Paris can appear on the surface to be a costly proposition, the resourceful and frugal spirit will find this an excellent guide to free or inexpensive things to see and do throughout the City of Light and its suburbs.

by Mark Beffart

Usually ships within 24 hours.
Paperback - 192 pages, Revised edition
Published April 1997 by Mustang Publications
Our Price: $10.95
ISBN: 091445787X

FRANCE: Culture, History, Language, Travel
Design and layout © 1997-1999

All Rights Reserved

Comments, suggestions,
broken links?

Produced by
The Wharton Group
and
Ian C. Mills


Please notify us!

The Y29K - compliant computer
preferred by designers everywhere.

This site
recycled

uses
electrons.


visitors

Text and image copyrights are attributed to their respective sources throughout this site.