The last time I see Paris will be on the day I die. The city was
inexhaustible, and so is its memory.
Introduction
Paris, the capital of France, is located in northern France on both banks of the Seine River, 145 km (90 mi.) from the river's mouth on the English Channel. A total of 2,257,981 (2009) inhabitants live in Paris proper, and 11,728,240 persons (2009) live in greater Paris (the Ile-de-France region), which is one of Europe's largest metropolitan areas. A city of world importance and the business, historic, intellectual, diplomatic, religious, educational, artistic, and tourist center of France, Paris owes its prosperity in large part to its favorable position on the Seine, which has been a major commercial artery since the Roman period.
Economy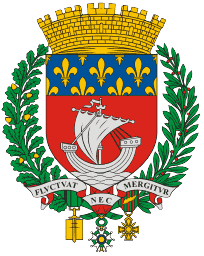 Paris coat of arms,
bearing the city's motto:
Fluctuat nec mergitur
("She is tossed by the
waves, but is not sunk.")
© Vector-Images.com
Paris has been one of the major cities of Europe since the Middle Ages, but the development of the city as it exists today occurred in the second half of the 19th century. Its greatest growth came during a 40-year period after 1850, when the population doubled in size to more than 2 million; it reached a peak in 1921 (2,906,500), after which people began migrating away from the city. Since then, as homes have been replaced by offices in Paris proper, most of the growth has occurred in the suburbs, where a large portion of the blue-collar work force lives. Of a total of 2 million commuters, about half travel daily from the outlying areas to the city center, and half travel from central Paris to the suburbs.
The economic activities of Paris overshadow those of any other part of France in importance and complexity. About 65 percent of the nation's bank and corporate headquarters are in the city. Much of the industry in central Paris is of the small-scale craft type, based on skill and most often family owned. Many of these industries make luxury items such as perfumes, furs, gloves, jewelry, toys, clothing, wooden articles, and other high-value goods.
Book printing and publishing are major activities in central Paris. Heavier industries are situated in the suburbs. These include the manufacture of automobiles, machine tools, railroad rolling stock, electric and electronic products, chemicals, and processed foods. Construction and the production of building materials are also important. Tourism, however, is by far the city's largest source of income; it is one of Europe's leading tourist attractions.
Government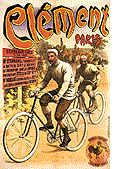 Paris is divided into 20 unequally sized arrondissements, or districts, each with its own mayor. Each of these is again divided into four sections. Two prefects and a mayor administer the city as a whole with the assistance of a general council.
"Paris is the greatest temple ever built to
material joys and the lust of the eyes."
– Henry James (1843-1916), U.S. novelist.
Transportation
Paris is the head of barge and ship navigation on the Seine and is the fourth most important port in France (after Marseille, Le Havre, and Dunkerque). The Loire, Rhine, Rhône, Meuse, and Scheldt rivers can be reached by canals connecting with the Seine, and a large amount of the imports and exports of the city are transported via water. Total freight carried to and from the port annually amounts to 43 million U.S. tons. Paris is also a major rail, highway, and air transportation hub. Two international airports, Roissy-Charles de Gaulle (CDG) and Orly, as well as Le Bourget (for private aircraft), serve the city. CDG ranks as the fifth busiest international airport in the world, and Orly as the seventh.
The city's subway system, the Métro, was opened on July 19, 1900, its first line being from Porte de Vincennes to Porte Maillot. Engineer Fulgence Bienvenüe oversaw the construction phase, while architect Hector Guimard designed the decorative Art Nouveau entrances. The system boasts 213 km (132 miles) of track and 16 lines (including two auxiliary lines). There are 300 stations (not including RER stations); 87 of these offer interchanges between lines. A total of 3553 cars transport roughly 6 million people per day, while the system itself employed 10,141 (not including RER) in 2010. Every building in Paris is within 500 meters (3/10 mile) of a métro station. The Réseau Express Régional (RER), inaugurated in the 1960s, connects the city with its outlying suburbs.
"Good Americans, when they die, go to Paris."
– Thomas Appleton (1812-84), U.S. author.
Lawrence M. Sommers, Professor of Geography, Michigan State University, East Lansing.
Sources: 2001 Grolier Multimedia Encyclopedia, ©2000 Grolier Interactive Inc. – All Rights Reserved.
Bibliography: Rudolph Chelminski, Paris (1977). Pierre Couperie, Paris through the Ages, trans. by Marilyn Low (1971). Norma Evenson, Paris: A Century of Change, 1878-1978 (1979). Janet Flanner, Paris Journal, 2 vols. (1966-71) and Paris Was Yesterday, 1925-39 (1989). Daniel Roche, The People of Paris (1987). Jerrold Seigel, Bohemian Paris (1987). David Thomson, Renaissance Paris (1984). Alex Karmel, A Corner in the Marais: Memoir of a Paris Neighborhood (1998). Anthony Sutcliffe, Paris: An Architectural History (1993). Andrew Trout, City on the Seine: Paris in the Time of Richelieu and Louis XIV (1996). Johannes Willms, Paris: Capital of Europe – From the Revolution to the Belle Epoque, trans. by Eveline L. Kanes (1996).
Images: xxx

Paris Links
Academic Programs
Study French language and culture in Paris and other cities throughout France. Choose from our list of 170+ academic year, semester or summer programs.
Airports of Paris
Useful guide to the Paris region's airports – Beauvais-Tillé (BVA), Roissy-Charles de Gaulle (CDG), Le Bourget (LBG), and Orly (ORY). Includes details on all forms of transport between the city and airports: via bus, limousine, private shuttle, taxi, or train.
Airport Shuttle
Ride in a comfortable, air-conditioned mini-van between Paris airports (or train stations) and your hotel, residence, or convention center within Paris city limits, selected suburbs, and/or Disneyland area. An affordable and convenient alternative to taxis, trains, or buses.
Canal & River Cruise
Relax on a leisurely 2½-hour cruise with Paris Canal Croisières: gaze at majestic architecture along the Seine River, then marvel at the engineering of the locks and bridges on the Canal St. Martin.
Events Calendar
Updated constantly, in collaboration with ViaFrance, browse our listings of arts & cultural events, exhibits, concerts, festivals, and celebrations taking place in Paris and throughout the provinces of France.
Feeling Safe in Paris
Helpful tips for tourists to enjoy a safe visit to Paris: police services; keeping yourself, your money, personal belongings, and vehicle secure. What to do if you become a victim of assault or theft.
Guided Tours
Join us for a wonderful guided tour of Paris, Versailles, the castles of the Loire Valley, Monet's Gardens, or venture further afield in France. Choose from walking, bike, and bus tours, river cruises – or the latest rage: the Segway Personal Transporter™! All tours are accompanied by expert guides.
Métro, Bus, & Tramway Passes
A Paris Pass allows unlimited travel on all Métro and RER (rail) lines, the Montmartre funicular, and city buses – including Balabus, Montmartrobus, Orlybus, and Roissybus. Available with a validity of between 1 to 5 days, for travel in Zones 1-3 (Paris city) or 1-5 (includes suburbs).
Museums & Monuments Card
With the Paris Pass, you can also breeze right past the long lines of tourists waiting at the Louvre, Musée d'Orsay, Arc de Triomphe, Fontainebleau Castle, Versailles Palace, and 65 other attractions in and around Paris. Offering unlimited admission to all locations, it is available for durations of 1, 3, or 5 consecutive days.
Paris Balades
Claudia Renau has assembled a richly illustrated series of architectural walks for all the arrondissements of Paris, plus La Défense, the Bois de Vincennes, and the Bois de Boulogne. Includes a map for each area. (in French only)
Seine Dinner Cruise
Enjoy a leisurely evening cruise and gourmet dinner, while partaking in the most romantic sights and stunning architecture of Paris – including the Eiffel Tower, Louvre, Notre Dame Cathedral, Orsay Museum, Statue of Liberty, and the magnificent bridges spanning the Seine.
Street Maps (by address)
ViaMichelin allows you to generate a detailed map by entering a street address. Viewers can zoom in or out for detail of the neighborhood or general cityscape orientation as needed. A similar service is offered by Mappy.fr.
Street Maps (by métro station)
If you know which Métro stop you'll be heading to, RATP offers hundreds of detailed neighborhood maps in color – showing every conceivable street, landmark, public park and body of water. (PDF format requires free Adobe Reader.)
Travel Center
Look for the best travel values and book all your reservations securely online: airline tickets, apartments, car rentals & short-term leasing, city passes, hostels, hotel rooms, tours & activities, rail passes, vacation rentals, and more.
Web Cams of Paris
Perched on top of the Eiffel Tower and other high places, TF1's cameras enable you to see Paris in real time. They are available 24 hours a day, whatever the weather conditions in the French capital. To see the city at its best, we suggest you surf on this page between 7:00 a.m. and 9:00 p.m. GMT (1:00 a.m. to 3:00 p.m. Eastern Time in the U.S.).

More Links

Paris Photo Galleries

Nominate A Site — Submit An Article!
Paris – the City of Light
Do you know of a great Paris web page we should list here? Are you a webmaster for a site on Parisian arts & culture, dining, history, museums, transportation – or other areas of interest? Please explore our subtopics to see where your link would be appropriate, then submit it!
Are you an author, educator, student or traveler who would like to write an article for the enjoyment of our francophile community? Please download our author's guidelines (48K PDF). Thank you!